I-17 Frontage Road Drainage Improvement: Greenway Road to ACDC Canal
I-17 Frontage Road Drainage Improvement: Greenway Road to ACDC Canal
Overview
The Arizona Department of Transportation is close to completing improvements to the cross street drainage system along the Interstate 17 frontage road between Greenway Road and Dunlap Avenue in Phoenix. The purpose of the project is to improve the drainage facilities that remove storm runoff from the Greenway, Thunderbird, Cactus, and Peoria cross streets, helping to reduce the potential for flooding at the Interstate 17 overpasses.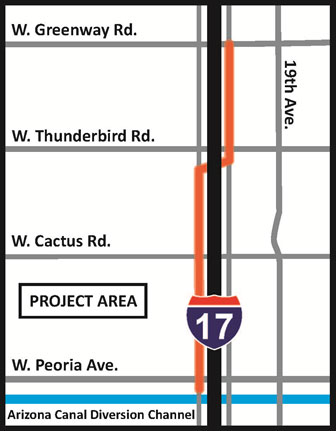 Project Details
Construction started in early 2020 and is anticipated to end October 2023. The new drainage system has been completed and is operational. The work included:
Removing the existing pump stations at Peoria Avenue, and Cactus, Thunderbird and Greenway roads. These pump stations were some of the oldest in the metro Phoenix freeway system.
Trenching and laying nearly 24,000 linear feet or four miles of large diameter concrete pipe. The pipe installed ranges in size from 54" to 90" in diameter.
Excavating two retention basins at Thunderbird Road. The basins are designed to collect and regulate outflow from the Thunderbird (the south basin) and Greenway (the north basin) cross streets.
Tunneling of two 300'-long pipes nearly 30' deep underneath I-17. This method of pipe installation allowed crews to work without the need to restrict or close mainline I-17.
Additional activities will continue for the next few months to complete minor work items, some of which may require lane restrictions.
 
Stay Up to Date

Schedules are subject to change based on weather and other unforeseen factors. Subscribe to receive project updates and traffic alerts by email. For more information, please call the ADOT Bilingual Project Information Line at 855.712.8530 or submit a question or comment by email. For real-time highway conditions statewide, visit ADOT's Traveler Information Site at www.az511.gov, follow ADOT on Twitter) or call 511, except while driving.
Traffic Alerts

No work is scheduled at this time.