I-17 Frontage Road Drainage Improvement: Greenway Road to ACDC Canal
I-17 Frontage Road Drainage Improvement: Greenway Road to ACDC Canal
Overview
The Arizona Department of Transportation is constructing improvements to the cross street drainage system along the Interstate 17 frontage road between Greenway Road and Dunlap Avenue in Phoenix. The purpose of the project is to improve the drainage facilities that remove storm runoff from the Greenway, Thunderbird, Cactus, and Peoria cross streets, helping to reduce the potential for flooding at the Interstate 17 overpasses.
The improvements will include a new, gravity-powered storm drain system, utilizing various sizes of concrete pipes and new drainage basins at Thunderbird Road, and the removal of the existing pump stations from the cross streets.The new system will discharge stormwater into the Arizona Canal Diversion Channel (ACDC), north of Dunlap Avenue.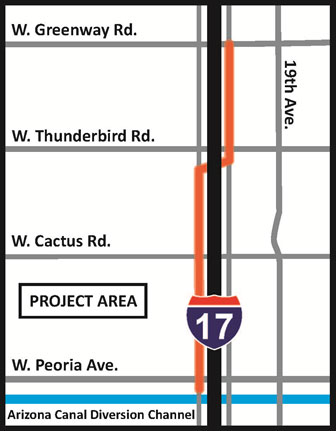 Project Schedule
Construction started in early 2020 and is anticipated to end mid 2023. Work began at the south end of the project near the Arizona Canal Diversion Channel and will proceed north to Greenway Road. Four phases of construction are scheduled:
Phase 1: Arizona Canal Diversion Channel (ACDC) at Dunlap Avenue to Peoria Avenue
Phase 2: Peoria Avenue to Cactus Road
Phase 3: Cactus Road to Thunderbird Road
Phase 4: Thunderbird Road to Greenway Road
What to Expect
The south- or northbound I-17 frontage road will be closed around-the-clock during each phase.
Drivers who typically use the frontage roads should plan to use alternate routes and allow extra travel time.
The cross streets in the project area will be closed at times.
ADOT will maintain access to homes, businesses and other properties in the project area via alternate routes.
Weekend, weekday and overnight work will be scheduled.
Stay Up to Date

Schedules are subject to change based on weather and other unforeseen factors. Subscribe to receive project updates and traffic alerts by email. For more information, please call the ADOT Bilingual Project Information Line at 855.712.8530 or submit a question or comment by email. For real-time highway conditions statewide, visit ADOT's Traveler Information Site at www.az511.gov, follow ADOT on Twitter) or call 511, except while driving.
Traffic Alerts

UPDATED: Weekend restrictions on I-10 in Buckeye June 10-11

This alert updates the locations of restrictions on Sunday

The Arizona Department of Transportation advises drivers to plan for the following lane restrictions on Interstate 10 in Buckeye this weekend:
East- and westbound I-10 will be reduced to one lane between SR 85 and Miller Road from 4 a.m. to 4 p.m. Saturday, June 10.
UPDATED: East- and westbound I-10 will be reduced to one lane between Miller Road and Watson Road from 4 a.m. to 4 p.m. Sunday, June 11.
ADOT advises drivers to slow down and use caution around construction personnel and equipment while work is underway.