John Wayne Parkway (SR 347) Improvements — Smith-Enke Road (SR 238) to Maricopa city limits
John Wayne Parkway (SR 347) Improvements — Smith-Enke Road (SR 238) to Maricopa city limits
Overview
The Arizona Department of Transportation (ADOT), in cooperation with the city of Maricopa, is planning a project to widen northbound John Wayne Parkway (SR 347) for approximately 1.3 miles from Smith-Enke Road (SR 238) to just north of the city limits.  This project will help relieve traffic congestion and improve travel times by widening northbound SR 347 and improving the Lakeview Drive intersection.
Key elements of the project include:
Adding a third northbound through lane on John Wayne Parkway (SR 347) between SR 238 to just north of the city limits
Adding curb and gutter along the east side of SR 347 from north of SR 238 to Lakeview Drive
Adding a northbound acceleration lane for traffic moving westbound to northbound at the SR 347/Lakeview Drive intersection
Reconstructing the existing Lakeview Drive paved median and widening the intersection
Repairing pavement within the project limits

This project is a partnership between ADOT and the city of Maricopa, with each contributing roughly half of the construction funding. Once completed, this segment of John Wayne Parkway will be turned over to the city for long-term operations and maintenance. 
Project Area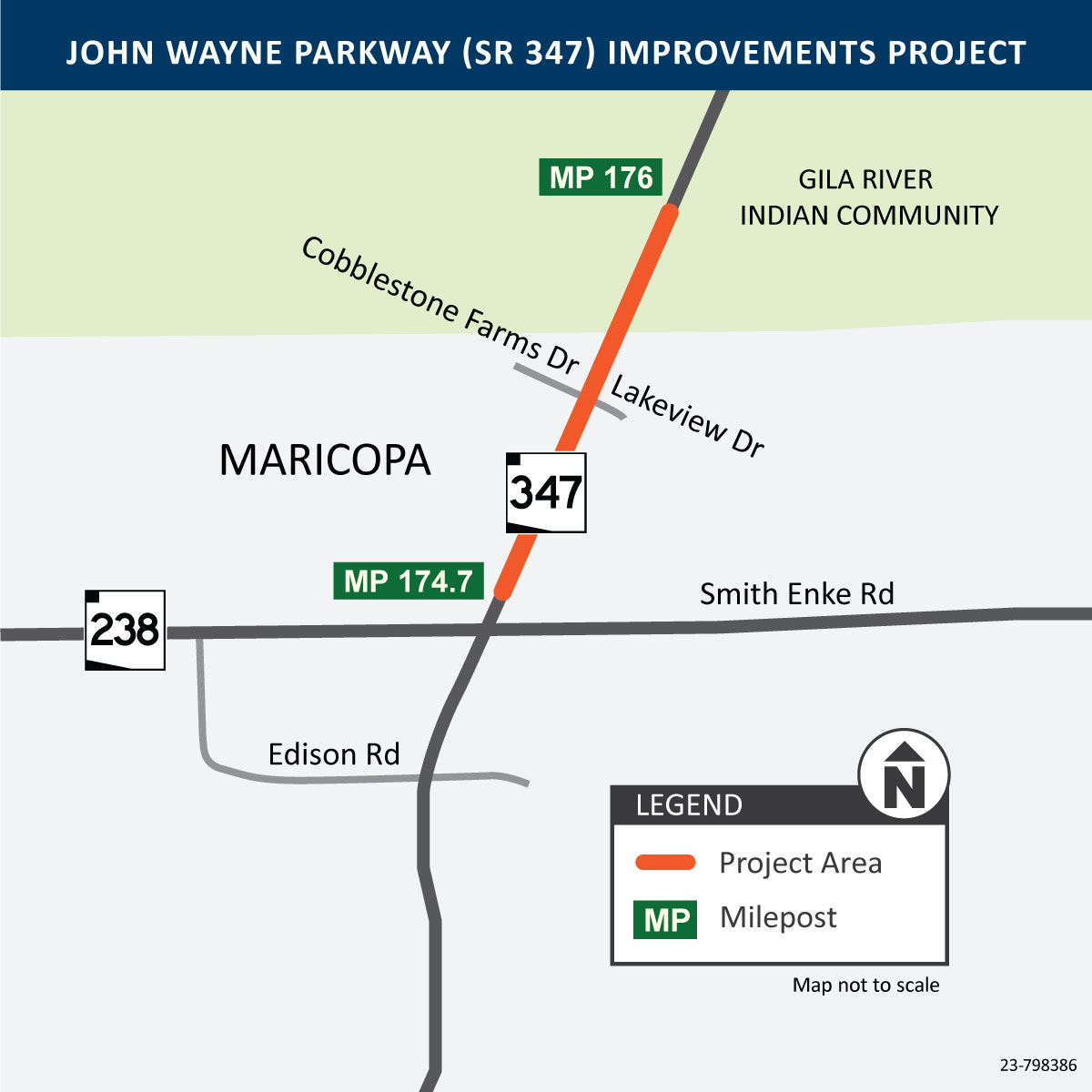 Project Schedule
Construction is anticipated to begin in fall 2023 and is expected to be complete  in summer 2024. 
Schedule subject to change based on weather or other unforeseen factors.
Stay Informed!

Please Subscribe to receive project updates and traffic alerts.
ADOT welcomes your questions and comments. Please contact us in any of these ways:
By phone:  ADOT Project Information Line: 855.712.8530
Teléfono: Línea de Información del Proyecto de ADOT: 855.712.8530
Email: Kimberly Larson at

[email protected]

By Mail: ADOT Communications, 1655 W. Jackson St., MD 126F, Phoenix, AZ 85007