Lindsay Road Interchange Project
Lindsay Road Interchange Project
Contents
Overview
The Arizona Department of Transportation, in partnership with the town of Gilbert, completed a new interchange on the Loop 202 Santan Freeway Lindsay Road in September 2022. The new Lindsay interchange provides direct freeway access to the Gilbert's Central Business District and the new surrounding residential and commercial development, improves traffic flow in the area by widening Lindsay Road and reducing traffic congestion at the existing interchanges at Gilbert Road and Val Vista Drive. This project also accommodates the future general purpose lane widening of the Santan Freeway.
Project Map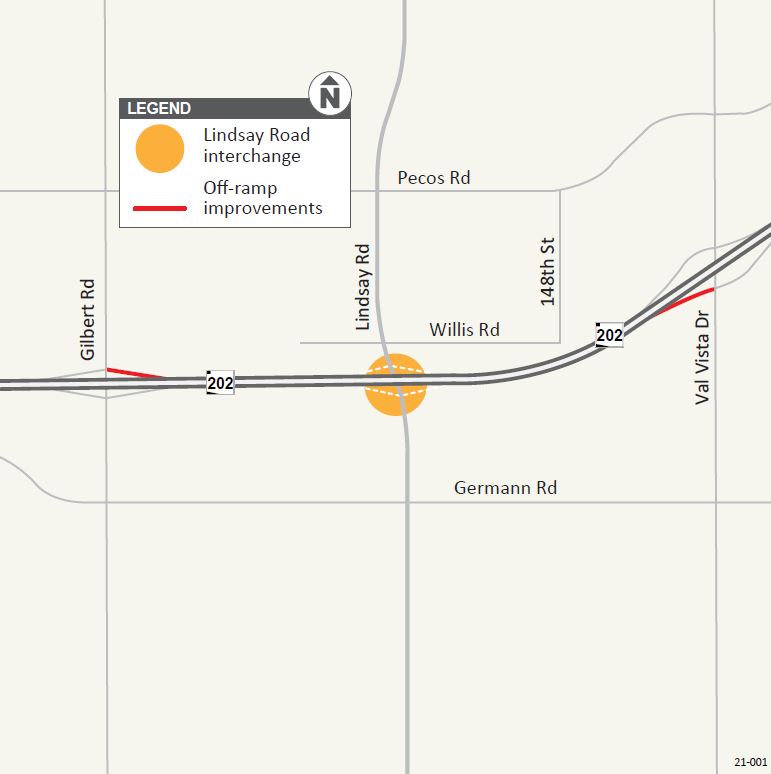 Project Features
Features of the new interchange include:
A new full diamond interchange at Lindsay Road and Loop 202.
Widening and reconstructing Lindsay Road at Loop 202.
A new two-lane westbound frontage road between Lindsay and Gilbert roads.
Widening the eastbound Val Vista Drive off-ramp and the westbound Gilbert Road off-ramp.
Relocating the Zanjero Park parking lot.
Timeline
Project construction began in January 2021 and was completed in September 2022. 
Traffic Alerts-Lindsay Road Interchange
ADOT opens new Loop 202 interchange at Lindsay Road in Gilbert
On- and off-ramps provide drivers with more options along Santan Freeway
A new traffic interchange at Lindsay Road opened along Loop 202 (Santan Freeway) in Gilbert early this morning (Friday, Sept. 16), providing drivers with more options to exit or enter the freeway in that growing area.
The Arizona Department of Transportation opened the new on- and off-ramps at the Loop 202 interchange at Lindsay Road in time for the morning rush hour.
The new interchange is part of a $21.7 million project that started in January 2021. Work also included construction of a new westbound Loop 202 frontage road between Lindsay and Gilbert roads.
ADOT partnered with the town of Gilbert, the Maricopa Association of Governments and the Federal Highway Administration on the much-anticipated project to add the new interchange and improve traffic flow in the surrounding area. 
Crews also widened the eastbound Loop 202 off-ramp at Val Vista Drive and westbound off-ramp at Gilbert Road. Lindsay Road was reconstructed and widened near the Santan Freeway.
The project has been funded in part by Prop 400, a dedicated sales tax approved by Maricopa  County voters in 2004, and federal funds. The town of Gilbert contributed local funds to the project.
Stay Informed

By Email: Subscribe to receive project updates and traffic alerts by email. 
By Phone: Call the ADOT Bilingual Project Information Line at 855.712.8530.
Online: Submit a question or comment through the ADOT website. Visit azdot.gov/Contact and then select Projects from the dropdown menu.
By Mail: ADOT Communications, 1655 W. Jackson St., MD 126F, Phoenix, AZ 85007
Twitter:  Follow ADOT on Twitter  (@ArizonaDOT) for real-time highway conditions statewide.