Loop 202 (Santan Freeway), Loop 101 to Val Vista Drive
The Arizona Department of Transportation has initiated a project to widen and make other improvements to the Loop 202 (Santan Freeway) between Loop 101 (Price Freeway) and Val Vista Drive in the city of Chandler and town of Gilbert.
The purpose of this project is to improve traffic capacity on Loop 202 to address growing traffic demands in the southeast Valley and relieve traffic congestion on Loop 202 during the morning and evening peak travel periods. Maricopa County is one of the fastest growing regions in the United States, with the population expected to increase by nearly 30 percent between 2020 and 2040. Traffic volume projections indicate congestion will worsen in the future due to growth in the region.
Project Elements
Adding two general purpose lanes in each direction on Loop 202 from Loop 101 to Gilbert Road
Adding one general purpose lane in each direction from Gilbert Road to Val Vista Drive
Widening exit ramps from one to two lanes
Adding noise walls in some locations
Widening overpass bridges
Reconstructing the eastbound Arizona Avenue on-ramp and bridge
Project Area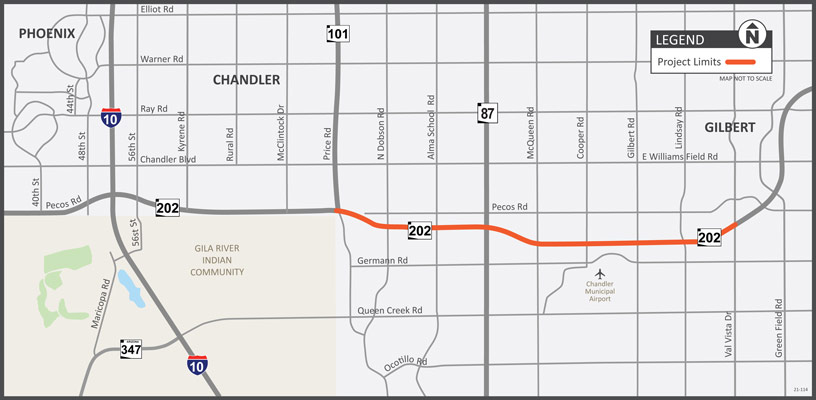 Timeline
The project is currently in the design phase.
The project is scheduled to begin construction in early 2024.
Stay Up to Date
Please subscribe to receive project updates by email.
ADOT welcomes your questions and comments. Please contact us in any of these ways:
By Phone: ADOT English Spanish Project Information Line: 855.712.8530
Online: Visit azdot.gov/contact and select Projects from the drop-down menu
By Mail: ADOT Communications, 1655 W. Jackson St., MD 126F, Phoenix, AZ 85007