Traffic Alerts - SR 24 Interim Phase II: Ellsworth Rd to Ironwood Dr
Phase II Construction Notice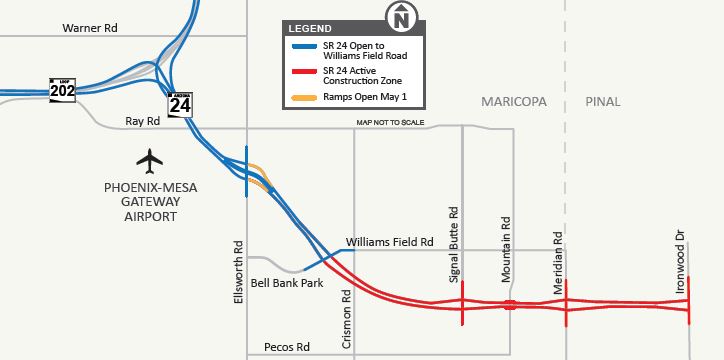 Beginning April 1, east- and westbound SR 24 will be open between Ellsworth and Williams Field roads for local access only. Drivers may access Bell Bank Park or the Cadence community using SR 24 to the new Williams Field Road exit. Drivers wanting to travel further east should continue to use alternate routes. The one-mile-long extension of SR 24 as a divided four-lane road is being opened early in partnership with the city of Mesa.
Closure of the Loop 202 (Santan Freeway) exits to SR 24 in Mesa scheduled March 26-27
Crews are continuing work on a project to extend State Route 24 as a four-lane roadway between Ellsworth Road and Ironwood Drive. Contractors will be working on adjusting temporary concrete barriers, concrete joint repairs and striping. Drivers should plan for the following restrictions scheduled to be in place from 6 a.m. Saturday, March 26, to 6 p.m. Sunday, March 27.
The east- and westbound Loop 202 (Santan Freeway) ramps to SR 24 (Gateway Freeway) in southeast Mesa will be closed.

Detour: Drivers on Loop 202 can travel beyond the SR 24 ramp closures by exiting to eastbound Elliot Road and using southbound Ellsworth Road.

The westbound SR 24 on-ramp at Ellsworth Road will be closed.

Detour: Drivers can travel north on Ellsworth Road and access Loop 202 via westbound Elliot Road or by using westbound Ray Road to northbound Hawes Road.
ADOT advises drivers to slow down and use caution around construction personnel and equipment while work is underway.