US 60/Loop 303 Traffic Interchange Improvements
US 60/Loop 303 Traffic Interchange Improvements
Contents
Overview
The Arizona Department of Transportation completed a feasibility study in 2022 to assess the US 60 and Loop 303 (Estrella Freeway) interchange and other intersections along US 60 from 163rd Avenue in Surprise to R H Johnson Boulevard in Sun City West.  
The study evaluated several short-term and long-term projects to improve traffic flow and developed conceptual design plans and cost estimates for each improvement.
Short-term improvements refer to smaller projects that would mitigate some traffic congestion and could be implemented sooner than the long-term improvements.
Project Area Map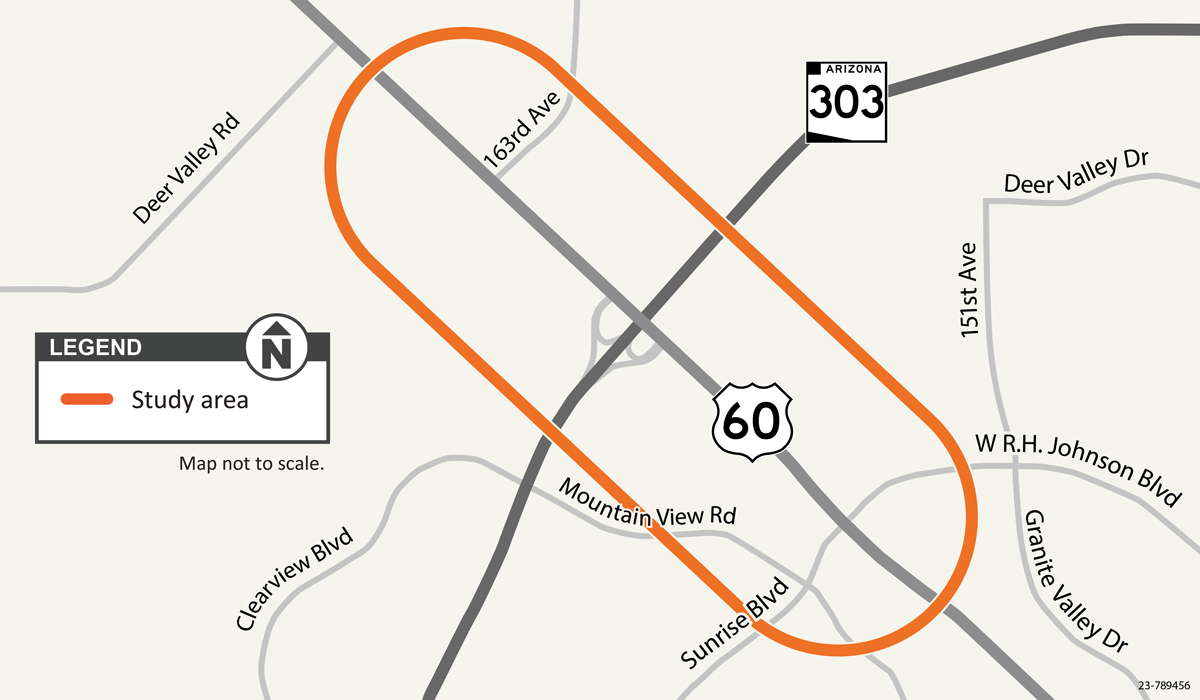 Short-Term Improvements
In April 2023 the Arizona State Legislature approved funding to initiate final design and construction of some short-term improvements. Construction is anticipated to begin in 2024.
These improvements include:
US 60/163rd Avenue
Add a third left turn lane from southbound 163rd Avenue to US 60
Add a second right turn lane from northbound/westbound US 60 to 163rd Avenue
Extend the existing east- and westbound US 60 third lane to 163rd Avenue
Note: No pavement widening is needed for any of these improvements.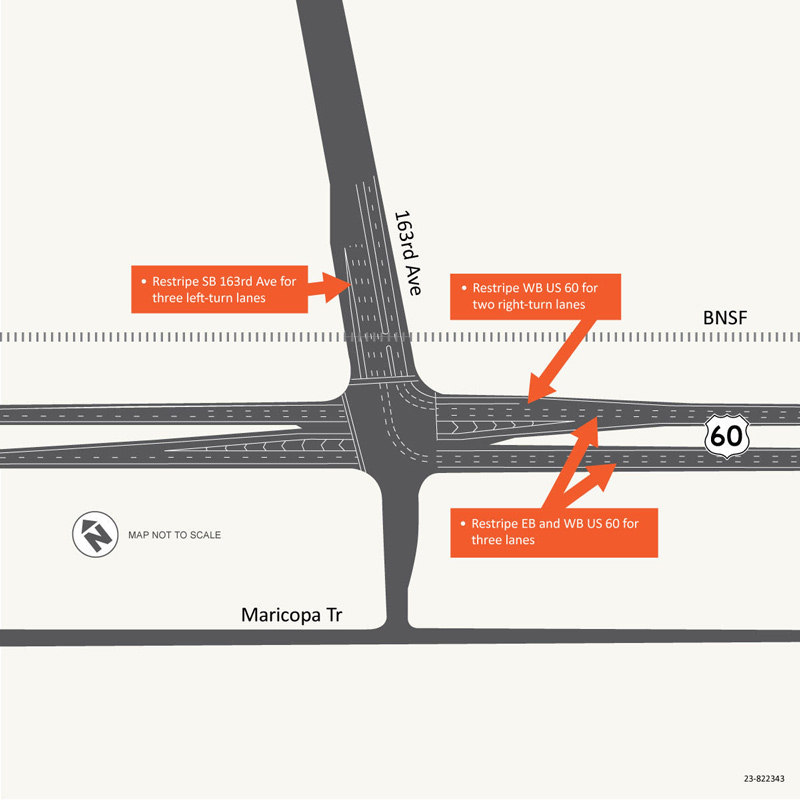 US 60/Loop 303
Add a second lane to the northbound Loop 303 off-ramp at US 60
Widen the Loop 303/US 60 intersection and Loop 303 northbound off-ramp to provide three dedicated left turn lanes and one dedicated right turn lane from the northbound Loop 303 off-ramp to US 60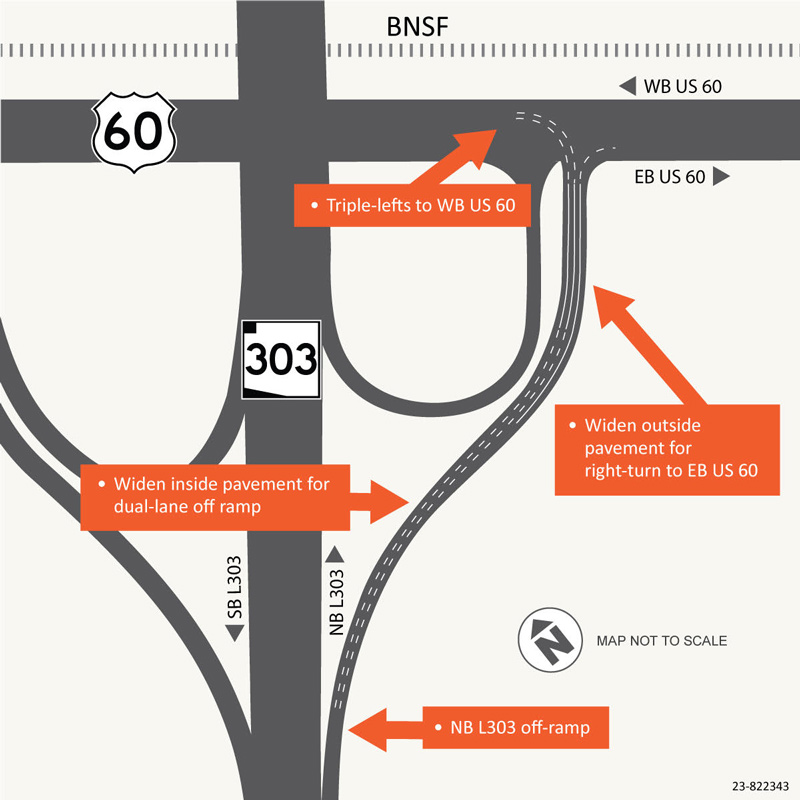 Other improvements include restriping, new signs, traffic-signal timing adjustments and railroad coordination.
Long-Term Improvements
The feasibility study identified some possible long-term improvements that could be implemented as part of future reconstruction of the US 60/Loop 303 interchange.
Possible improvements include:
Construct a diamond interchange at US 60 and Loop 303
Construct new southbound Loop 303 off-ramp and northbound Loop 303 on-ramp over the railroad tracks
Grade separate eastbound US 60 through lanes between 163rd Avenue and RH Johnson Boulevard to go over Loop 303.
Build a US 60 overpass at 163rd Avenue. Traffic on 163rd Avenue could be serviced by a ground-level Single Point Urban Interchange (SPUI) interchange.
NOTE: These improvements are subject to change. Further study will be required to determine the final configuration of the long-term improvements.
Schedule
The study began in November 2021 and was completed in June 2022 with the release of the US60/SR303L Traffic Interchange (TI) Feasibility Report (See report under the Document tab) 
ADOT is initiating the final design of the short-term alternatives, with construction anticipated to begin in 2024.
Documents
Stay Informed

By Phone: ADOT Project Information Line: 855.712.8530
Teléfono: Línea de Información del Proyecto ADOT: 855.712.8530
Online: Visit azdot.gov/contact and select Projects from the drop-down menu
By Mail: ADOT Communications, 1655 W. Jackson St., MD 126F, Phoenix, AZ 85007