US 60X, Sossaman to Meridian Corridor Improvements
US 60X, Sossaman to Meridian Corridor Improvements
Overview
The Arizona Department of Transportation has initiated a project to improve US 60X (also referred to as Old US 60, Apache Trail, or Main Street) between Sossaman Road and Meridian Road. Improvements are needed to enhance safety and mobility for all modes of transportation.
Project Area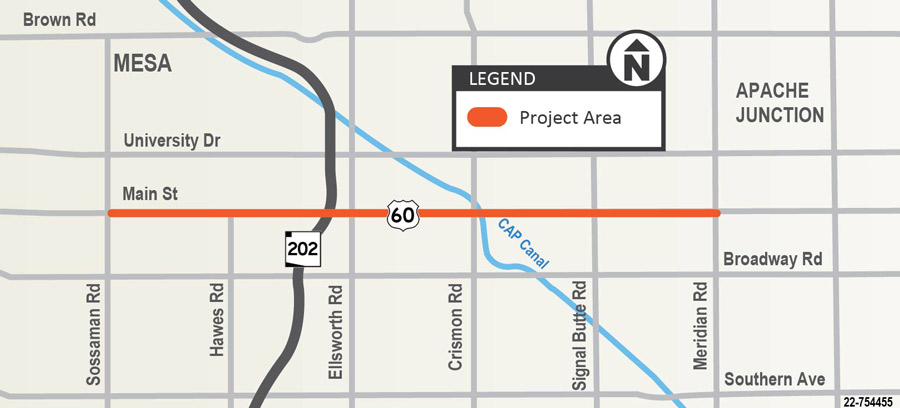 Project Elements
Reduce the roadway to two lanes in each direction.
Install sidewalks, curb, gutter, bike lanes and lighting.
Improve drainage conditions based on the recently completed North Mesa Area Drainage Master Study by the Flood Control District of Maricopa County. 

Project Schedule
The project is currently in the design phase. Construction is expected to begin in early 2024.

Please subscribe to receive project updates by email.
ADOT welcomes your questions and comments. Please contact us in any of these ways:
By Phone: ADOT Project Information Line: 855.712.8530
Teléfono: Línea de Información del Proyecto de ADOT: 855.712.8530
Online: Submit a question or comment by email.
By Mail: ADOT Communications, 1655 W. Jackson St., MD 126F, Phoenix, AZ
Documents