I-15 Virgin River Bridge No. 1
Overview
Project Cost: $56,000,000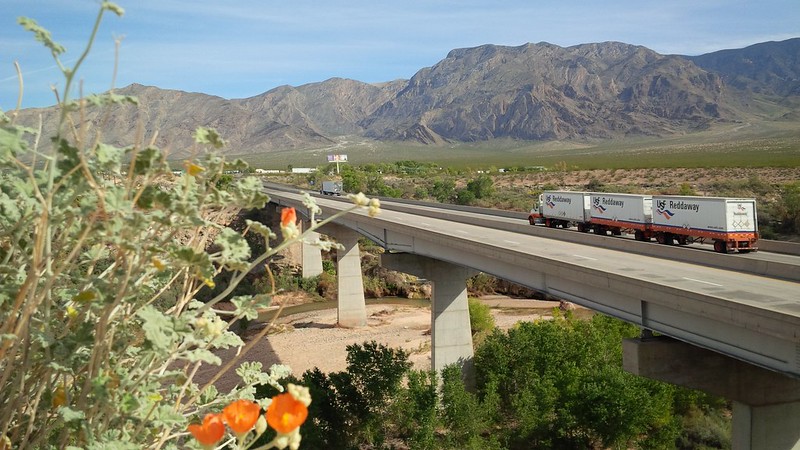 The Arizona Department of Transportation has initiated a project to replace the Virgin River Bridge No. 1 along Interstate 15 with a new bridge that will increase safety and help the regional corridor to continue carrying commerce for decades to come. The bridge replacement project is near the community of Littlefield.
Work will include replacing the abutment foundations, piers and the bridge deck of the bridge. New pavement, pavement markings, guardrail and signage also are included in the project. Work is anticipated to be completed by spring 2024.
About the Project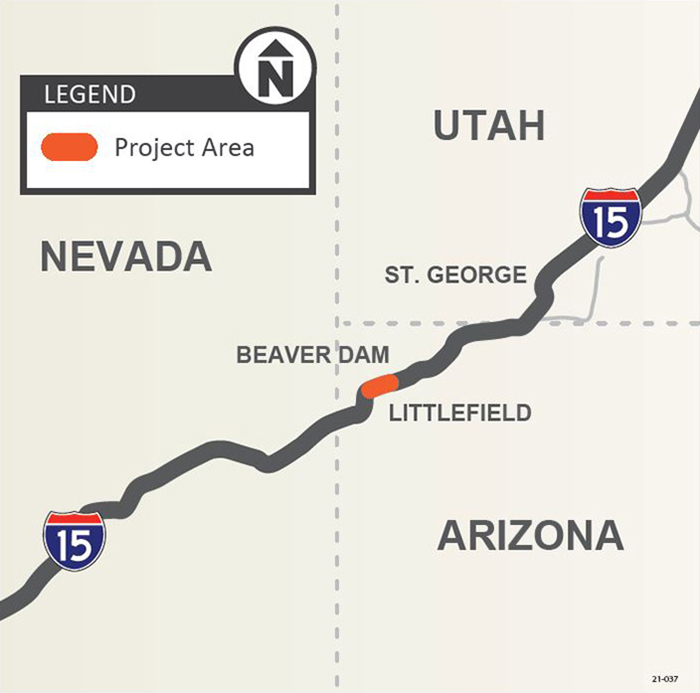 The purpose of the project is to remedy the bridge's structural deficiencies so that I-15 can continue to accommodate truck traffic and facilitate the movement of people, goods and services while minimizing maintenance requirements. This will help ADOT meet its long-range goal of maintaining I-15 as an essential trade and truck route linking Nevada, Arizona and Utah.
Dating back to early 2014, ADOT has undertaken a series of rehabilitation projects on the I-15 Virgin River bridges, from minor repairs and resurfacing of bridge decks on bridges Nos. 2, 3 and 7 to an extensive rehabilitation of bridge No. 6 that was completed in 2016.
In summer 2020, ADOT completed repairs and deck rehabilitation to bridges Nos. 2, 4 and 5.
Arizona's 29-mile segment of I-15 directly connects Nevada and Utah and is a heavily traveled commercial and economic corridor linking southern California with the Rocky Mountain region.
What to Expect During Construction
Although lane restrictions will be in place through spring 2023, one lane of traffic in each direction will be maintained throughout the project. A 224-mile detour route is required for vehicles wider than 10 feet or heavier than 129,000 pounds. Signs, as well as a Virgin River Bridge smartphone app available for free download on Apple and Android devices, will direct oversize vehicles to the detour route of US 93, Nevada State Route 319 and Utah State Route 56 between Las Vegas and Cedar City, Utah.
There are also restrictions to water recreationists on the Virgin River near the bridge during the project (see below).
River Restrictions and Closures
The closure is needed as construction crews begin replacing the existing bridge with a new bridge. The public will not be able to access or utilize the river or adjacent lands at this location during the construction project. Prohibited activities will include kayaking, boating, swimming, sightseeing and other water recreational activities.
Also, in the interest of public health and safety, crews will permanently remove the manmade pool known as "Little Jamaica" in the I-15 right-of-way under Bridge No. 1. As was noted during public involvement for the bridge-replacement project, this site frequently has trash, human waste and other types of waste and lacks water-quality monitoring. It also poses a threat to endangered species and vegetation in the vicinity.
With its location within the ADOT right-of-way and the potential health hazards, crews will remove the sandbags that helped create the pool and allow the spring to return to its natural path. Fencing will be placed around the spring to prevent future diversions.
Please avoid the area for your safety and the safety of those involved with the project. Thank you for your cooperation.
Project Schedule
February 2021 to spring 2024
Stay Informed
ADOT will provide more information about project schedules and potential traffic impacts as information becomes available. Stay informed of traffic restrictions before they occur by subscribing to receive timely traffic alerts and project updates by email.
Have a question or comment?
By phone: Call the ADOT Bilingual Project Information Line at 855.712.8530.
Online: Submit a question or comment by visiting azdot.gov/Contact and then selecting "Projects" from the dropdown menu.
By mail: Write to ADOT Community Relations, 1655 W. Jackson St., MD 126F, Phoenix, AZ 85007