State Route 260: Rim Road to Gibson Road
State Route 260: Rim Road to Gibson Road
Project Overview
The Arizona Department of Transportation in conjunction with the Federal Highway Administration is improving the roadway along a 21-mile stretch of State Route 260 between Rim Road and Gibson Road (mileposts 282-304). 
The $24.9 million project includes extending and improving drainage facilities, constructing a 5-foot shoulder on both sides of the roadway, guardrail improvements, spot pavement repairs and restriping of the roadway.
Construction is anticipated to last through summer 2025.
Project Area Map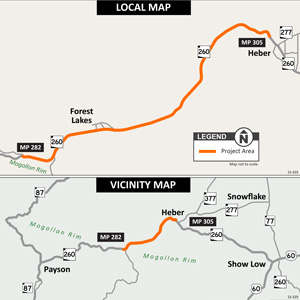 The project will occur within ADOT right-of-way. The purpose of this project is to improve roadway safety by increasing shoulder width of the existing roadway.
What to Expect
Traffic may be restricted to one lane only with alternating east- and westbound travel 6 a.m. to 5 p.m., Mondays through Thursdays and the contractor has an option to work 5 a.m. to noon on Fridays. As a result, motorists may experience traffic delays. 
Traffic Alerts

Daytime lane restrictions planned on State Route 260 east of Christopher Creek Aug. 8 - Dec. 30
Drivers should plan for up to 30-minute delays and allow extra travel time 
The Arizona Department of Transportation advises drivers to plan for five-months of daytime lane restrictions on State Route 260 east of Christopher Creek while a roadway safety improvement project is underway. The restrictions are scheduled daily from 5 a.m. to 5 p.m. Monday through Thursday, Aug. 8 - Dec. 30. 
Motorists should expect delays up to 30 minutes while the following restrictions are in place:
SR 260 will be narrowed to one lane only in 1-mile increments with alternating east- and westbound travel roughly between Old Rim Road and Aspen Lane (mileposts 282-305).
Flaggers and a pilot car will guide drivers through the work zone.
The speed limit will be reduced to 25 mph.
A 14-foot vehicle-width restriction will be in place. Wider loads can be accommodated with 12-hours notice.
ADOT advises drivers to slow down and be prepared to stop in the work zone while the safety improvement project is underway.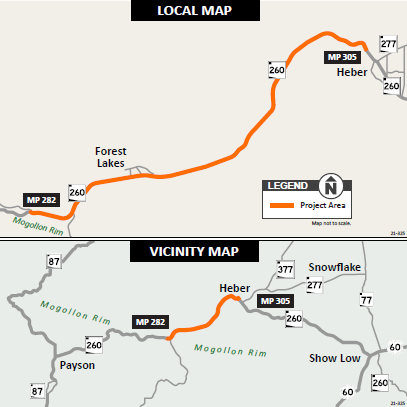 For more information, visit the project web page: azdot.gov/260-Rim

Restrictions and Closures
For information about project-related restrictions and closures, please visit az511.gov or call 511, except while driving. ADOT will provide more information about project schedules and potential traffic impacts as information becomes available. Stay informed of traffic restrictions before they occur by subscribing to receive timely traffic alerts by email. Schedules are subject to change on weather and other unforeseen factors
Stay Informed

Email: Subscribe to receive project updates and traffic alerts.
Phone: ADOT Project Information Line: 855.712.8530.
Teléfono: Línea de Información del Proyecto ADOT: 855.712.8530
Online: Submit a question or comment through the ADOT website. Visit azdot.gov/Contact and then select Projects from the dropdown menu.
Twitter: Follow ADOT on Twitter  (@ArizonaDOT) for real-time highway conditions statewide.