Statewide Critical Pavement Repair Projects
Statewide Critical Pavement Repair Projects
Contents
Overview
The record amount of snow and rain that many parts of northern Arizona received this past winter created ideal conditions for worn sections of pavement and potholes to form, particularly in Arizona's higher elevations.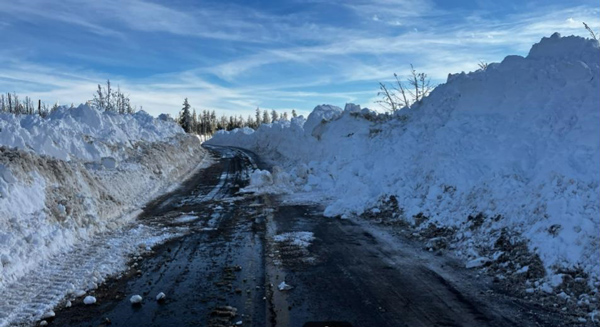 Snow on US 191
To address this problem, ADOT has allocated $50.5 million to make immediate pavement repairs at 23 locations, most of which are in northern Arizona. Furthermore, ADOT reallocated another $40 million in highway pavement repairs for fiscal year 2024, which starts July 1, 2023, as part of the FY24-28 Five-Year Transportation Facilities Construction Program. The State Transportation Board approved the Five-Year Program at its June 16 meeting.
In addition to this reallocated funding, Governor Hobbs and the Arizona State Legislature approved the FY24 state budget that includes $54 million for pavement repairs in rural parts of Arizona. Once these projects are determined and scheduled, they will be added to this page.
Project Elements
The pavement repair work will consist of removing and replacing damaged surface pavement on sections of I‐10, I‐17, I‐40, US 60, SR 77, SR 87, SR 260 and US 93.
The work consists of removing the existing top layer of pavement and replacing it with an asphalt overlay to improve pavement conditions and the driving surface for vehicles. The work will be done in spot locations along these highways in stretches of several miles.
Project Map
View an interactive map with the locations of pavement repairs.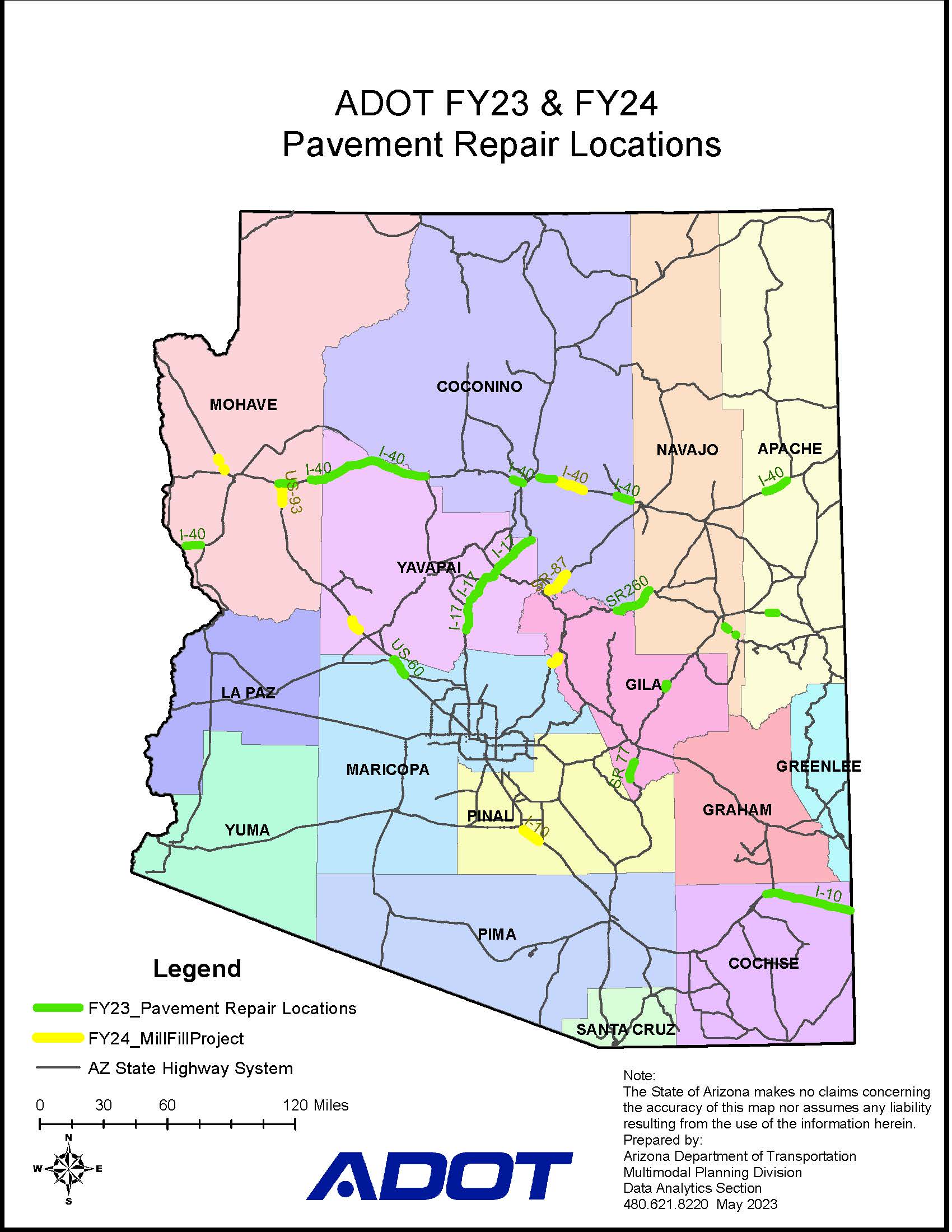 Current Project Schedule

FY2023 Funded Pavement Repair Projects
I-40 Projects
Work currently underway
I-40 Walnut Canyon Road to Townsend-Winona (mileposts 204 - 214)
FY2024 Funded Pavement Repair Projects
I-10 Projects
Project anticipated to start early fall
I-10 Interstate 8 junction to SR 87 (mileposts 200 - 209)

Business 10 Willcox to Old Stewart Road (mileposts 337 - 344)
I-40 Project
Project anticipated to start mid-October
I-40 eastbound Townsend-Winona Road to Buffalo Range Road (mileposts 214 - 226)
SR 87 Projects
Work currently underway
SR 87 SR 260 junction to Clints Well (mileposts 277 - 291)
Project anticipated to start mid-October
SR 87 Mount Ord to Gold Creek Tank (mileposts 226 - 231)
US 93 Project
Project anticipated to start early fall
US 93 Legend Ranch Road to Date Creek Ranch (mileposts 59 - 178)
What to Expect During Construction
Work along each segment of a highway corridor is expected to take approximately 2-4 weeks, depending on the location.

Drivers should plan for lane restrictions and reduced speed limits while the pavement work is completed. Plan extra travel time if work is occurring along your planned route.

A minimum of one lane of traffic will be maintained throughout the work zones on two-lane highways and one lane in each direction on interstates.
Schedules are subject to change because of weather or other unforeseen factors. Remember to slow down and use caution around construction workers and equipment.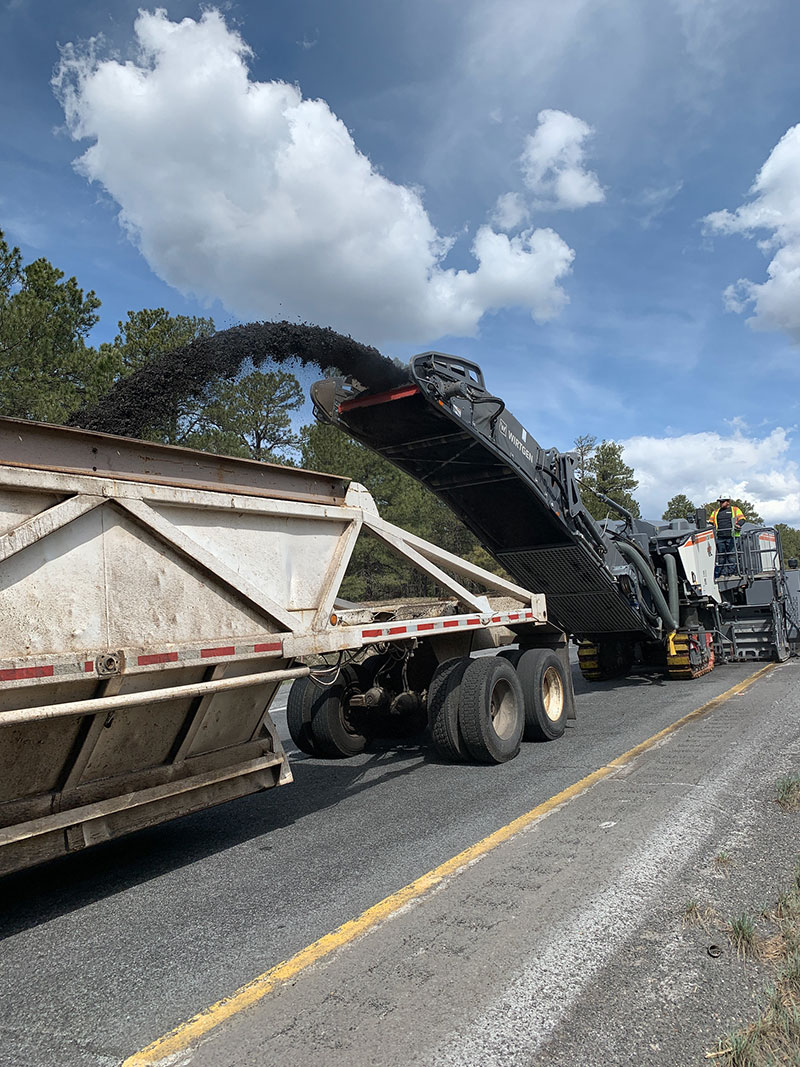 Completed Pavement Repairs
I-10 
I-10 US 191 junction to New Mexico state line (mileposts 350 - 391)
I-17 
I-17 northbound Sunset Point to north of SR 179 (mileposts 251 - 302) (2 projects)

I-17 southbound SR 169 to SR 69 (mileposts 280 - 264)

I-17 SR 179 to Scenic Overlook (mileposts 300 - 312)
I-40 
I-40 Needle Mountain Road to Lake Havasu (mileposts 2 - 9)

I-40 eastbound US 93 to Seligman (mileposts 72 - 123) (3 projects)

I-40 westbound Cross Mountain to Willow Ranch (mileposts 89 - 95)

I-40 Seligman to Ash Fork (mileposts 123 - 146)

I-40 Riordan Bridge to I-17 (mileposts 190 - 195)

I-40 SR 99 to Tucker Flat Wash (mileposts 235 - 250)

I-40 Pinta to McCarrell (mileposts 319 - 331)
US 60 
US 60 Wickenburg to SR 74 (milepost 110 - 120)

US 60 Seneca to Salt River Bridge (mileposts 288 - 293)

US 60 Vernon to Cerro Montosa (mileposts 364 - 378)
US 60 Salt River Canyon
SR 77 
SR 77 Dripping Springs to El Capitan (milepost 154 - 163)
SR 260 
SR 260 Rim Road to Heber (mileposts 282 - 302)

SR 260 Knottingham Lane to SR 73 (mileposts 347 - 358) (2 projects)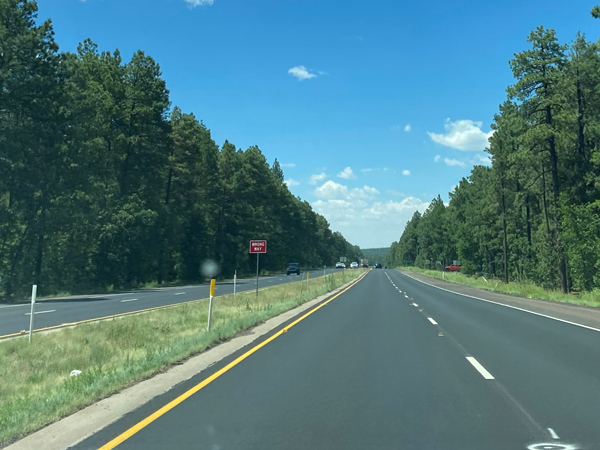 SR 260 near Pinetop-Lakeside
Stay Informed

ADOT will post information about traffic restrictions and closures as it becomes available. Drivers can also stay informed of real-time, project-related traffic restrictions by visiting az511.gov or call 511, except while driving.
Sign up for email alerts: Subscribe to receive traffic alerts and project updates directly to your email.
Contact Us
Phone:  ADOT Bilingual Project Information Line: 855.712.8530
Línea Bilingüe de Información del Proyecto ADOT: 855.712.8530
Email: [email protected]
Mail:  ADOT Community Relations, 1655 W. Jackson St., MD 126F, Phoenix, AZ 85007.