Awards program honors ADOT shops for sustainability
Awards program honors ADOT shops for sustainability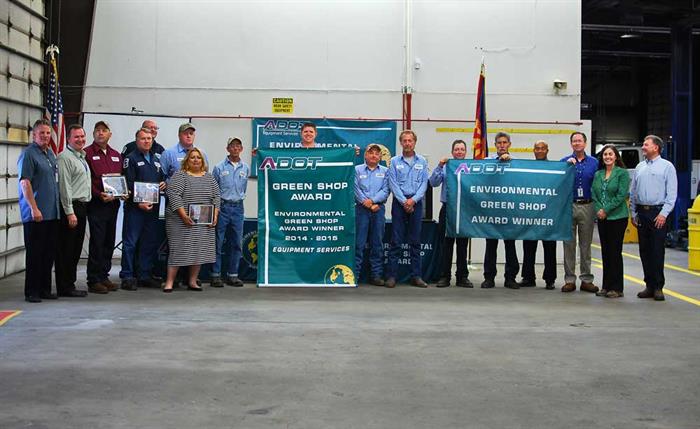 By Angela DeWelles / ADOT Communications
It's not always easy being green … but ADOT workers strive to reduce waste and improve the environment.
ADOT's Green Shop program was started to promote and reward ADOT Equipment Services shops that minimize waste and reduce impacts to the environment. To be recognized with an Environmental Green Shop award, ADOT equipment service shops must implement and comply with more than 150 different best management practices all aimed at promoting environmentally friendly operational practices that reduce waste and improve sustainability.
It is a huge accomplishment to win the Green Shop award," says Nathan Carroll, ADOT's Fuel, Scales, Environmental and Training Manager.
This year, ADOT equipment service shops in Tucson and Springerville earned the honor (two awards are given every other year – one to a full-service shop and one to a smaller, satellite location).
The competition for the top shops was intense. According to Carroll, just half a point separated Tucson from the three shops that tied for second place.
Tucson and Springerville both employed a number of improvements that demonstrate efforts that are "above and beyond" standard best practices, says ADOT Environmental Engineering Specialist Robert Trapani.
Trapani, who played a big role in the development of the Green Shop award program, evaluates and works with each of ADOT's 23 equipment services shops throughout the two-year cycle. His process includes three site visits where shops are graded on their compliance with ADOT's best-practices manual and for implementing environmental methods.
He said it was a range of efforts, from simple housekeeping to more involved things like the conversion to LED lighting, self-audits, improved quality control measures and increased recycling, which led to this year's wins for Tucson and Springerville. Tucson Shop Foreman Harry Edwards explained that even small changes can have big impacts. For example, the relocation of a tire machine from the north side of the shop to a more centralized location closer to tire repair tools saved an average of 10 minutes per tire change and 174 steps for the techs, Edwards said. That totals about $3,000 in savings each year. Edwards also stressed that every shop employee had a part in the improvements.
Equipment Parts Supervisor Kevin Potts agreed.
"All the techs stepped up on this," he said. "Everybody jumped on board."
Administrative Services Division Director Sonya Herrera, who was on hand for the award presentation in Tucson on April 8 (Springerville will be awarded later this month), said many of the improvements made are in line with the agency's Continuous Improvement efforts.
"You guys are absolutely right on target," she said. "I commend your efforts and am very impressed at what you've done."
This isn't the first time we've covered the The Green Shop Program on the blog. The program actually began 10 years ago.