Commercial vehicle safety is important to making roads safer for all drivers
Commercial vehicle safety is important to making roads safer for all drivers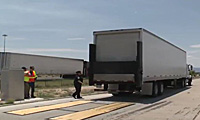 By Caroline Carpenter / ADOT Communications
ADOT strives to create and maintain a safe, efficient highway system. Our Enforcement and Compliance Division (ECD) is a key part of making that happen.
ECD employs certified peace officers who concentrate on commercial vehicle safety. These officers check commercial vehicle driver credentials, weigh vehicles, check registration and insurance, and perform safety inspections.
The video above shows ECD officers at work and explains more about their role in improving highway safety for all motorists.
Check out additional ECD blogs for more information on commercial vehicle inspections and permits.