Business outreach helps ADOT spread the word on upcoming projects
Business outreach helps ADOT spread the word on upcoming projects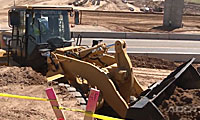 There's no cookie-cutter approach when it comes to getting the word out on an upcoming ADOT project …
The method (or more likely, methods) used to communicate with the public depends on the plans, location and a host of other factors.
News releases, social media, advertising, public service announcements, telephone hotlines, public meetings and project websites are just some of the ways we communicate with the public.
There's also a low-tech and simple, but very effective, approach that includes getting out and talking face-to-face with the business owners and community members the project could impact.
"Public information is a top priority for ADOT and we are committed to making sure that folks are aware of our projects also aware of potential impacts and that we give an opportunity for businesses and stakeholders to connect back with us and let us know what their thoughts and concerns are," says ADOT senior community relations officer Mackenzie Kirby in the video above.
This type of in-person outreach seems to be very effective, according to ADOT senior community relations officer Megan Griego.
"We came out early on even when this was still being planned, when dirt hadn't even turned yet," says Griego in the video referring to the I-10/Loop 303 interchange project. "We were out here talking to the businesses to assess the type of impact this could have to their business while it's under construction."
The result of this early interaction often leads to a "win-win" situation, Griego says. Business owners end up getting accurate information and are then able to pass it on to customers, telling them what they can expect when driving in the area.
For more on ADOT and business outreach, take a look at the video above, and be sure to let us know in the comments below how you like to receive ADOT project information.