Throwback Thursday: Paving Central Avenue atop the Papago Freeway tunnel
Throwback Thursday: Paving Central Avenue atop the Papago Freeway tunnel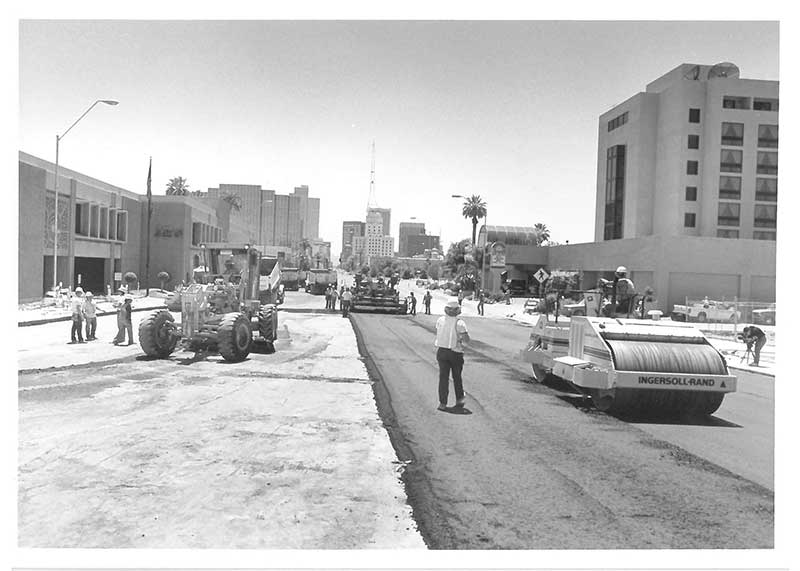 By Laurie Merrill / ADOT Communications
This vintage photo shows construction of the final piece of Interstate 10 through a series of bridges near downtown Phoenix.
Snapped in 1989, the picture captures crews paving Central Avenue atop the Papago Freeway Tunnel, better known as the Deck Park Tunnel.
Today, the mighty half mile of I-10 carries hundreds of thousands of vehicles daily under Margaret T. Hance Park next to the Burton Barr Central Library.
Finished in 1990, it was celebrated as the last piece of freeway needed to complete the I-10 in its 2,500-mile entirety between Santa Monica, California, and Jacksonville, Florida.
The photographer who captured the paving also snapped a slice of Phoenix life. The picture, looking south near Portland Street, was taken in the same year that the elder George Bush was elected president, the Berlin Wall fell and NASA launched the Galileo spacecraft.
Residents arriving after this ADOT project may not recognize Central Avenue. There have been significant additions in the ensuing years, not the least of which is the Valley Metro light-rail line.
Many of today's buildings, however, were present in 1989. Then as now, the Westward Ho building can be seen on the west side of Central – on the southern end of the picture – towering over its shorter neighbors.
The first building on the right, once the site of the Lexington Hotel, was built in the 1970s and now houses the artsy FOUND:RE Phoenix hotel at the corner of Central and Portland.
The tunnel has become such an integral part of Phoenix that it may surprise some to learn that it's not really a tunnel. The freeway actually travels under 19 side-by-side bridges.