From the Director: ADOT brings jobs and benefits to the small-business community
From the Director: ADOT brings jobs and benefits to the small-business community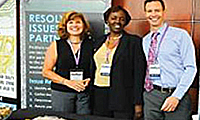 By John Halikowski / ADOT Director
Did you know the Arizona Department of Transportation has programs to help small, minority-owned or woman-owned businesses perform work on transportation projects? The programs are operated through our Business Engagement and Compliance Office or BECO, which is celebrating its fifth year within ADOT.
Small, minority-owned and women-owned businesses are referred to as disadvantaged business enterprises or DBEs. There are more than 1,100 DBE firms certified in Arizona. This year, more than 12 percent of federal highway transportation dollars have been awarded to these firms. This type of contract work means jobs and benefits for small businesses, which are a vital part of the state's economy. It is making transportation personal.
BECO is required to submit data on a yearly basis to the Federal Highway Administration. This data reflects how well our programs are meeting the needs of DBEs and the small business community. Because of the success of our programs being offered through BECO and the outreach we do, Arizona is recognized as a national leader.
I commend our BECO staff for their commitment to providing quality programs that support small businesses and DBEs in being able to work in the transportation industry. ADOT is indeed bringing jobs and benefits to the small business community.
To learn more about BECO and the programs offered, visit ADOT Business Coach On Demand.
---

This post originally appeared on ADOT Director John Halikowski's
LinkedIn page. He has led the agency since 2009.