On I-10, ADOT's dust detection system ready to battle its third monsoon season
On I-10, ADOT's dust detection system ready to battle its third monsoon season
By Garin Groff / ADOT Communications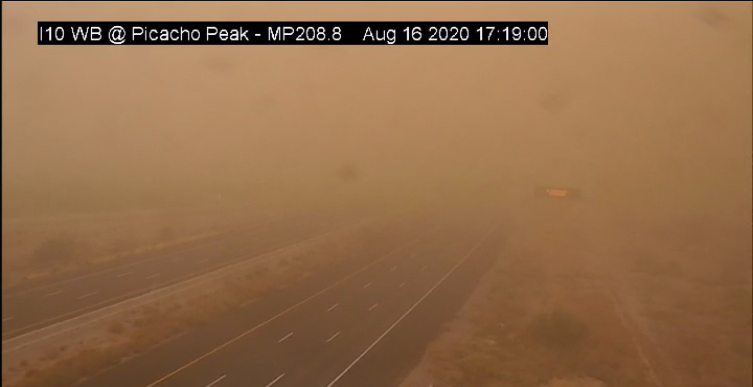 For drivers who make frequent trips on I-10 between Phoenix and Tucson, thoughts of the monsoon likely spur memories of nasty dust storms that cover the desert like a thick fog. Traveling can be miserable not so much for the triple-digit heat but the scary realization you may not be able to see what's ahead.
Thankfully for motorists, this monsoon season marks the third year ADOT is working to make the drive safer with our dust detection and warning system spanning 10 miles of the highway that's most prone to wind-blown dust.
You've probably noticed where the system operates even if you haven't spotted any of the high-tech devices that make it work. That's because large signs inform drivers they've entered a variable speed limit corridor, where electronic speed limit signs can drop the speed limit during dust storms.
The normal 75 mph speed limit can change to as low as 35 mph, depending on how bad the dust is in the corridor between Eloy and Picacho Peak. At the same time, overhead message boards light up and tell drivers to slow down because of reduced visibility.
After two monsoon seasons, we know the automated system is working as designed based on a couple big factors.
First, the system has successfully activated itself when dust kicks up. Just as importantly, it returns to normal when the dust dies down.
And drivers are slowing down. Sensors in the road tell us vehicles pass through the area more slowly as the speed limit signs change, which means motorists are traveling more safely when visibility is poor.
Only one thing hasn't worked as we expected: the monsoon itself.
The 2020 season was what meteorologists call - and this is a highly technical term - a non-soon. There just weren't many dust storms to activate the system, which only kicked in for mostly very short spans about a handful of times.
The 2021 monsoon began by drenching most of Arizona's central deserts, so there wasn't a lot of dust to kick up.
Nevertheless, the system operates year-round because dust storms are possible any time of year in Arizona. With the peak season for blowing dust just now starting, ADOT technicians have recently finished maintenance and calibration work on the system's 13 visibility sensors that detect dust particles.
If you want to know more about how this first of its kind system works, check out this article to read more about the devices and technologies that are largely invisible to drivers.
Finally, a word about one thing all this technology can't do: Replace common sense. Drivers need to take the monsoon seriously by slowing down when dust cuts visibility. And our best advice for driving in dust storms is to not drive into them. Delay your travels if possible. And if you find yourself in a bad storm, pull over and wait it out.
And know that on your next trip between Phoenix and Tucson, ADOT's dust detection and warning system is ready for whatever this season may bring.