Good day for snowplay? Don't park on highway shoulders
Good day for snowplay? Don't park on highway shoulders
By Laurie Merrill / ADOT Communications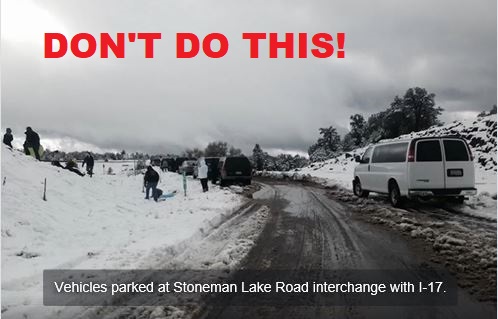 Over Salt River and up I-17, to play in the snow we go!
We'll be really smart, and get an early start, as US 180 traffic can be very slow!
On the shoulders of US 180, the snow is so white and close! 
But help first repsonders out and park in legal lots, because emergency vehilces need the whole road.
It happens every winter. After a hefty snowfall in northern Arizona, many of us in the Phoenix-metro area get a sense of excitement.  
Snow! Let's go! We can dust off our mittens and hats and build snowmen!
But, before you hop in your car and drive north, there's something to know: Don't park on highways to play in the snow. We get it, everyone in the car gets excited at seeing the first dusting of snow. But there's better snow -- and more snow -- to play in that isn't on the highway shoulder, so keep driving.
Not only is parking on highway shoulders dangerous for people and their vehicles, it puts in harm's way other motorists and can restrict travel for first responders.
A few more Know Snow tips for making the most out of a winter day-trip to Arizona's high country:
Give snowplows plenty of room to work. That means staying at least four car lengths behind a plow and never passing a snowplow that's clearing the road.
Consider leaving for home a little earlier. When congestion occurs, it typically peaks after snow-play areas along US 180 near Flagstaff start closing around 4 p.m. To avoid the worst traffic, you may want to begin your trip home earlier in the afternoon.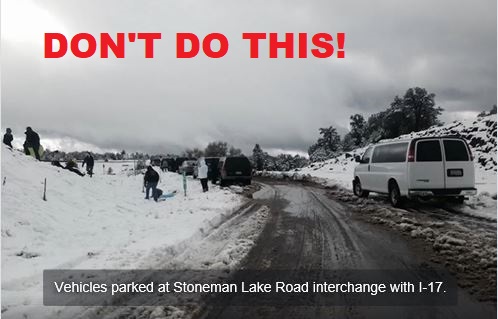 Be prepared.
No matter where you're traveling, if you are headed into snowy, icy or cold conditions, you want to be prepared for potential delays. Follow our
Know Snow
advice, including taking warm clothing and blankets, a fully charged mobile phone and charger, a flashlight with extra batteries, drinking water, healthy snacks, a first-aid kit and necessary medications. Also make sure your gas tank is at least half to three-quarters full at all times and ensure that your wipers, window defroster, headlights, taillights, brake lights and turn signals work.
One of the most important tips takes place before you even get behind the wheel: Research weather conditions. Visit az511.gov or dial 511 for updated road conditions. Follow ADOT's Twitter account at @ArizonaDOT and our Facebook page. However, never use a cellphone or mobile device while driving.