Cue the fireworks, then enjoy this video of blasting work along I-17
Cue the fireworks, then enjoy this video of blasting work along I-17
By Laura Douglas / ADOT Communications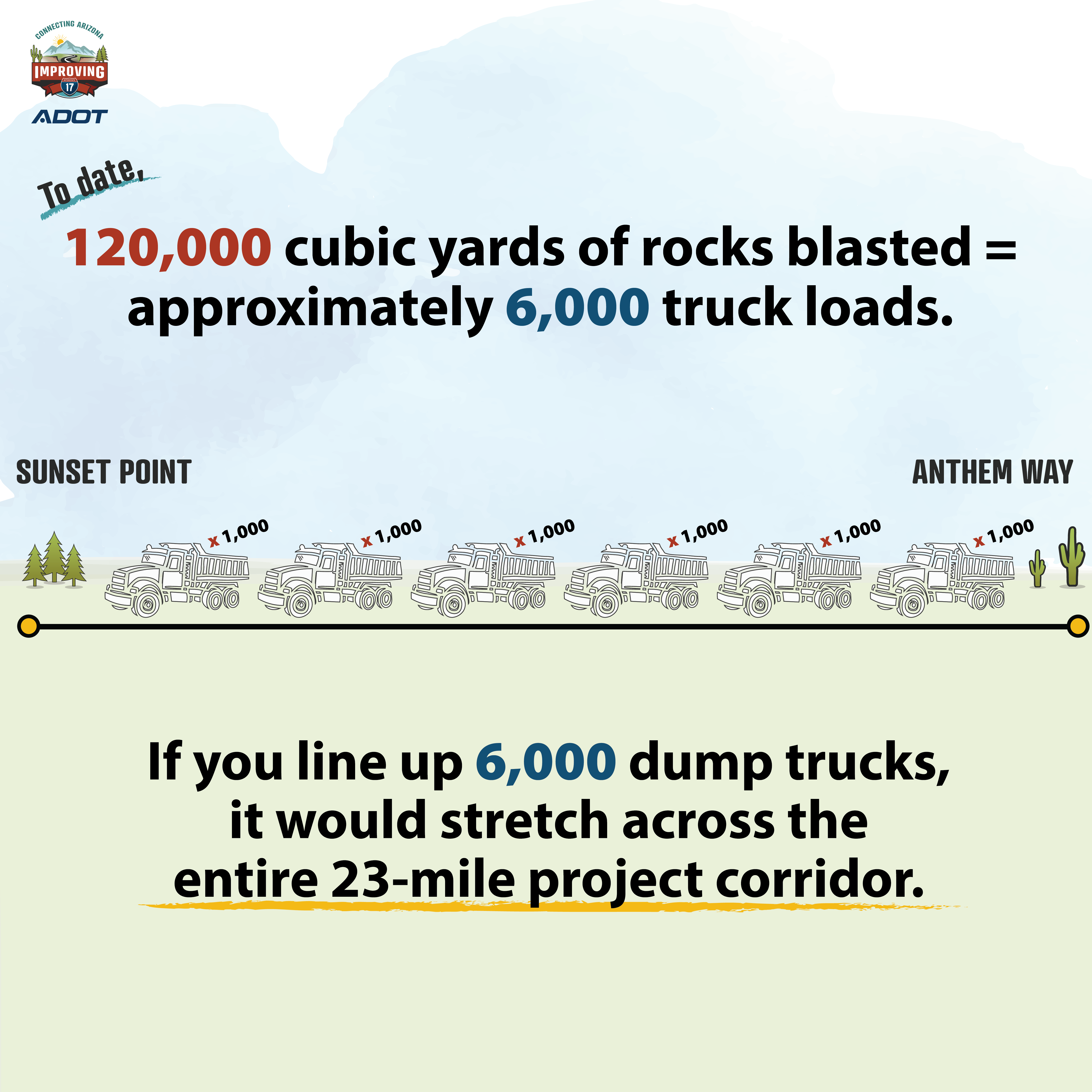 It may not be a dazzling Fourth of July fireworks show, but controlled rock blasting for the I-17 Improvement Project is a pretty spectacular sight in our eyes. And it's a necessary operation to make way for the additional lanes between Anthem Way and Sunset Point.
The project recently hit a major milestone when controlled rock blasting was completed in the northern segment between Coldwater Road and Sunset Point. The work included 42 blasts, which took place over six months, in order to loosen rocks to make way for the construction of the new 8 miles of flex lanes in this area.
Rocks that are removed during blasting are crushed and turned into aggregate base, a material that will be used in the paving process for both the new general purpose lanes and flex lanes that are being built along the 23-mile project corridor.
A major component of the I-17 Improvement Project process, controlled rock blasting is a technique used to loosen the rock, where construction requires large amounts of material to be moved to accommodate widening. Crews moved approximately 120,000 cubic yards of blasted rock from the northern segment, roughly equal to more than 6,000 truckloads.
Blasting will occur throughout three sections of the project corridor, with about a third of the blasting for the project now completed. Controlled rock blasting has now begun in the next section between Table Mesa Road and Black Canyon City.
Full closures of I-17 in both directions are necessary near the blast area when controlled rock blasting occurs, generally between 10 and 11 p.m. two to three times a week. Blasting is only scheduled for weeknights and drivers should expect delays of at least one hour and backups of about 2 miles when controlled rock blasting is scheduled.
Additional details about the I-17 Improvement Project, which is expected to be completed in 2025, can be found at ImprovingI17.com.