Maximizing resources by ADOT's Insurance Recovery Unit
Maximizing resources by ADOT's Insurance Recovery Unit
By John Halikowski / ADOT Director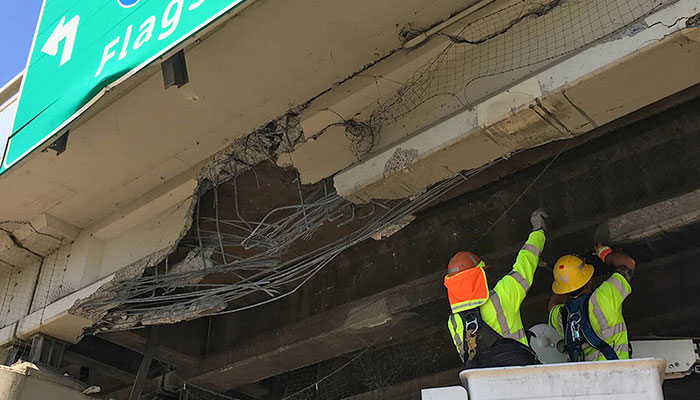 When you have to make repairs to your house from a leaky roof or from storm damage, you file a claim with your insurance company. We all know there is paperwork involved, which may include submitting photos and cost estimates, as well as communicating to insurance agents about the repairs. 
The process is similar to what happens when there is damage to our roadways from crashes, vehicle fires and other traffic incidents. At the Arizona Department of Transportation, we have a dedicated team responsible for recovering costs from insurance companies and reinvesting those dollars into our transportation system. It's our Insurance Recovery Unit and I'd like to highlight the important work they perform each and every day.
Our Insurance Recovery Unit consists of seven employees, of which five members have a total of 85 years of experience working in the insurance industry. They are responsible for recovering costs associated with damage to the state's transportation system. For fiscal year 2021, the team recovered $4.7 million. They have already recovered $4 million in the first seven months of FY22. We reinvest the insurance money we receive back into our transportation system, providing savings to Arizona taxpayers.
As you've traveled on our roadways, you may have seen damage to guardrails, signs, concrete barriers and more. The top three items we file claims for are guardrail, fencing and cabling repairs. The highest cost items to repair are bridges, asphalt from vehicle fires and concrete barriers. 
Besides providing savings to the taxpayer, the Insurance Recovery Unit also maximizes resources. In 2018, the team had a goal of going paperless and having team members work from home. They realized both goals by March 2019. Once the coronavirus pandemic hit in 2020, our work processes changed at ADOT and we had more employees who were eligible to work from home do so. This team has had no interruptions in workflow and has maintained a high degree of efficiency throughout the pandemic. Their organizational structure also maximizes the skill set of team members.
I appreciate the work our Insurance Recovery Unit performs. By maximizing resources and reinvesting funds to repair our transportation system, this team embodies our True North, ensuring everyone gets Safely Home.