Design-build projects satisfy the need for speed (and save money, too)
Design-build projects satisfy the need for speed (and save money, too)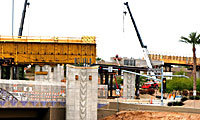 In less than a year, spectacular ramps and bridges have risen from bare ground in the southeast Valley. By this fall, they'll link 12 miles of new high occupancy vehicle lanes on the Loop 202 (Santan Freeway) with Interstate 10 and the Loop 101 (Price Freeway) in Chandler -- see the project's progress in the slide show above.
On the other side of the Valley, crews are adding new HOV lanes - and improving three bridges - on the Loop 101 (Agua Fria Freeway) from I-10 near Avondale to I-17 in north Phoenix. In just six months, they have built and paved 18 miles of the 30-mile project and are eyeing completion by this fall.
Both of these projects are utilizing the "design-build" (D/B) method of delivery – and proving that D/B can yield big results in a relatively small amount of time. That's why D/B is one of the "alternative delivery methods" that ADOT uses for freeway projects when doing so makes sense.
The D/B concept involves pairing a design team with a construction team to create one, synergistic entity that delivers a freeway project from beginning to end.
This differs from the more traditional "design-bid-build concept" where one firm designs a project that is then put out to bid and awarded to a construction company to build.
Contractors that bid on ADOT's D/B projects must not only meet quality standards, but also demonstrate their capability to complete the project on time and on budget at a much faster and dynamic pace.
Because D/B projects are schedule-driven, they can make driving through the work zone a bit more challenging. The faster pace means doing more – and more complicated – work in a shorter amount of time. For motorists, it can mean numerous restrictions or detours while the project is underway.
The flip side? The same restrictions or detours occur, but are spread out over a longer period of time for a project that takes longer to complete and probably costs more.
The D/B method can save time and money by overlapping the design and construction phases. Other benefits include improved design efficiency through on-going constructability reviews and better management of the project schedule. Because the design firm and construction company typically form a joint venture to deliver the freeway project, ADOT also benefits from having a single point for contractual responsibility if challenges arise.
With so many benefits, why doesn't ADOT use D/B for all of its projects? Simply put, not all freeway projects are good candidates. The best project candidates do not require significant right-of-way acquisition or extensive, complicated relocation of existing utilities. In addition, ADOT believes that D/B is most advantageous when transportation improvements are immediately needed to improve safety and reduce high traffic volume or chronic congestion.
So the next time you're maneuvering through a sea of orange cones on the Loop 101 in Peoria or find yourself on a detour route because the Loop 202 is closed in Chandler, remember that ADOT is working to make your everyday commute safer and more efficient – and saving time and taxpayer dollars at the same time!