Ringtail on the new Arizona driver licenses needs a name
Ringtail on the new Arizona driver licenses needs a name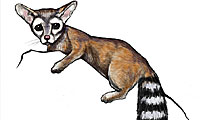 Look very closely at the newly designed Arizona driver license and you'll spot a ringtail lounging in the bottom right corner…
He (or she?) isn't there just for decoration. The ringtail was actually incorporated into the license background image as one of many new security features.
Besides having that important job, the ringtail also serves as Arizona's official state mammal.
Pretty impressive resume for such a little creature! We think the ringtail deserves a nickname, which is why we're kicking off the "name the ringtail" contest to solicit ideas on what to call the critter.

You can submit your naming ideas by visiting azdot.gov/ringtail. On that page, you'll also be able to vote on the suggestions submitted by others.
The contest runs through June 6. There are no prizes – just bragging rights!
Need some more information on this little animal with a big tail? Head over to the Arizona Game and Fish Department website for details. There you'll learn that ringtails are primarily a night-time animal that "can be extremely bold and unconcerned about the presence of humans. Calls consist of a repertoire of barks, chirps, growls, howls and yips."
The new license and a new process for getting your license will be implemented on June 16. You can learn more about both by visiting our MVD website or by checking out our previous blog post.