ADOT putting the 'smooth' back into stretch of I-17 in Phoenix
ADOT putting the 'smooth' back into stretch of I-17 in Phoenix
PHOENIX – Drivers are already noticing a smoother ride on Interstate 17, and there's more on the way as crews work to resurface more than 10 miles of the freeway between the downtown area and north Phoenix with a fresh layer of rubberized asphalt.
As the Arizona Department of Transportation's $9.8 million I-17 Improvement Project between Dunlap and 19th avenues approaches the halfway mark, crews have already paved six miles southbound and five miles northbound.
The paving, which started in March, requires sections of the freeway in one direction to be closed on most weekends until mid-June, including northbound I-17 between McDowell and Camelback roads from 10 p.m. Friday to 5 a.m. Monday (May 1). The Interstate 10 ramps connecting to northbound I-17 at the "Stack" interchange also will be closed.
The entire I-17 project, including final lane striping, will be completed this summer.
ADOT's project team is working to limit the traffic impacts, including scheduling paving northbound this weekend with fans heading to Arizona Diamondbacks games and other events in and around downtown. In addition, there will no closure over Memorial Day weekend in late May.
ADOT's overhead message boards will alert drivers to the closures and available alternate routes, including State Route 51.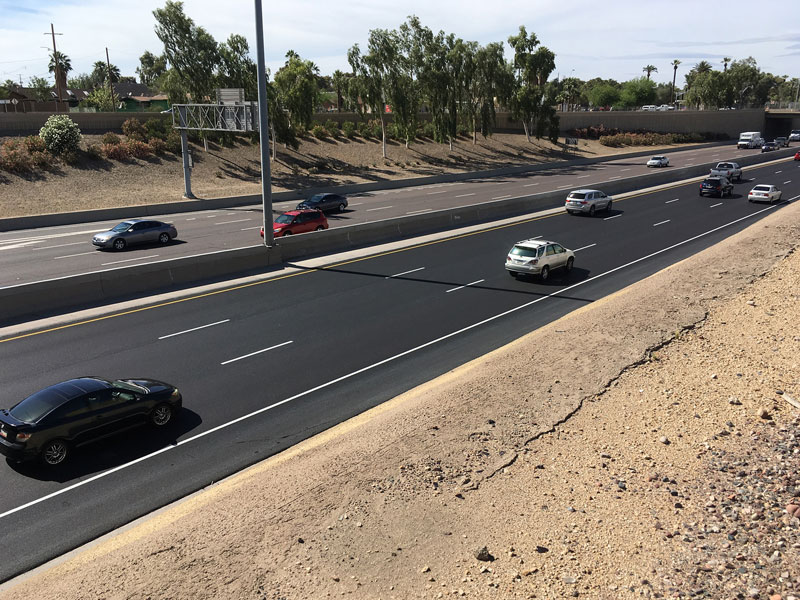 Rubberized asphalt, which includes melted rubber from recycled tires blended into its mixture, is best applied to the freeway within a pavement temperature range that's higher than 75 degrees. Such temperatures generally occur during spring and fall, when most rubberized asphalt resurfacing is done.
ADOT uses rubberized asphalt on many freeways and highways because it has proven to be a durable pavement that provides a smooth ride. It has also gained favor over time for reducing traffic noise in neighborhoods adjacent to freeways.
The I-17 Improvement Project actually started last fall with sidewalk and wheelchair ramp improvements at a number of cross street interchanges. Crews also are upgrading safety fences on overpasses above I-17.
Other work has included I-17 drainage improvements near Durango Street, new signs and concrete-barrier upgrades.
ADOT will provide updates on the I-17 resurfacing and scheduled closures on the agency's website, azdot.gov, and Twitter feed (@ArizonaDOT).