MVD assists returning soldiers
MVD assists returning soldiers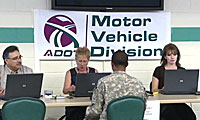 On June 6, more than 300 soldiers with the 40th Expeditionary Signal Battalion returned home to Ft. Huachuca after serving in Iraq for the past year.
These soldiers were welcomed by family, friends and community – but, many also were greeted with the fact that there is so much to take care after you've been away from home for 12 months.
"There are a lot of things that a soldier needs to do when they get back," said Colonel Patrick Dedham, Brigade Commander, 11th Signal Brigade, in the video above. "First they have to reintegrate into their life as a soldier here at Ft. Huachuca, their life as maybe a husband, or a wife. There's also all the administrative things they need to do."
It was the administrative tasks that soldiers received assistance with through a Reverse Soldier Readiness Process event held at Ft. Huachuca.
The process is intended to help the soldiers shift back into life stateside and ADOT's Motor Vehicle Division participated by assisting with driver license issues and vehicle title and registration concerns.
MVD employees can handle everything on-site, except for processing. For that final step the soldier is given a return letter, which they can take to the nearby MVD office for expedited service and no waiting in line.
MVD Southern Regional Manager Esther Perez was on hand for the Reverse Soldier Readiness Process and the homecoming event celebrating the return of the soldiers.
"It was a touching moment," she said of seeing all the family reunions taking place. "Tears come to your eyes. … They're protecting the country, so we're here to do what we need to help them."