Throwback Thursday: A work in progress
Throwback Thursday: A work in progress
By John LaBarbera / ADOT Communications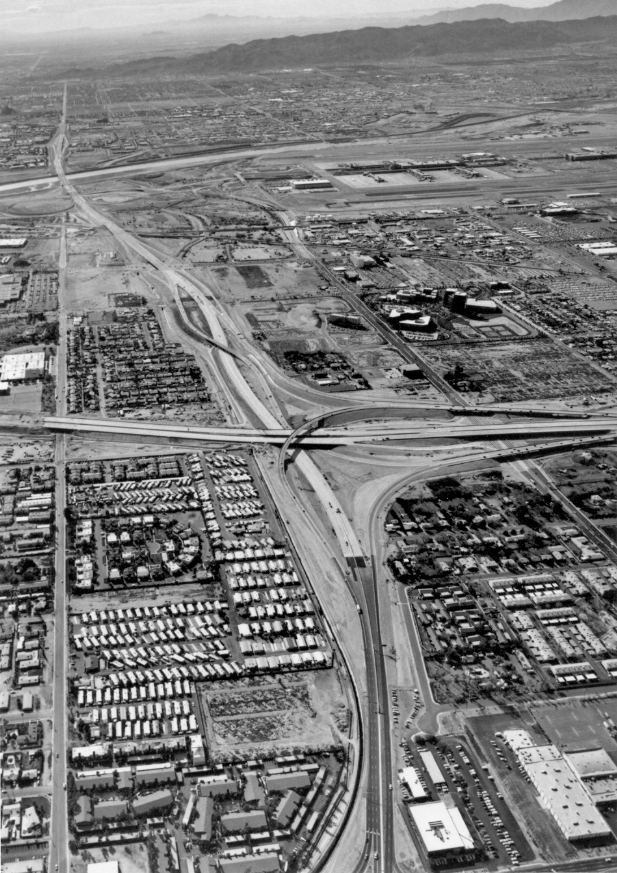 The black and white nature of this photograph may be a bit deceiving.
Today, we are throwing back to 1992. The year of the Barcelona Summer Olympics, the maiden voyage of the Space Shuttle Endeavor, and Paul Reiser taking the sitcom world by storm with the premiere of 'Mad About You.'
Here in the Copper State, the Arizona Department of Transportation completed work on State Route 143 after decades of planning. We see it here from its northern terminus at McDowell Road as it winds southbound toward Interstate 10. 
We can clearly spot Sky Harbor as it looked nearly 30 years ago, and near the middle of the picture, we see the Loop 202 Red Mountain Freeway (or, as it was then known, the East Papago Freeway).
And if you look even harder, you'll notice it stops just east of the interchange over 48th Street. It can be hard to believe now, as we zip across the Valley with ease these days, that our freeway system is relatively young.
The Red Mountain Freeway would open to Loop 101 in Tempe the following year, and finally be completed in 2008, when the last leg between Power Road and University Drive in Mesa opened.
Of course, the entire Loop 202 was officially "looped" in 2019 with the opening of the South Mountain Freeway.