Last call for comments on this phase of the Sonoran Corridor study
Last call for comments on this phase of the Sonoran Corridor study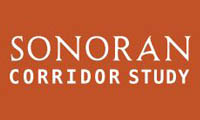 By Tom Herrmann / ADOT Communications
When Arizona Department of Transportation engineers met with the community in Tucson and Sahuarita a month ago to talk about the proposed Sonoran Corridor, a mid-July deadline to comment at the start of a three-year environmental study must have seemed far in the future.
Don't look now, but that deadline will be here before the weekend.
As with any important project, you will have more chances during the three-year study to let us know what you think about the proposed Sonoran Corridor, which would connect Interstate 10 and Interstate 19 south of Tucson International Airport. But now is the time to make your feelings known if you want your input included during this initial scoping phase.
Our first step will be to study a range of possible corridors for their potential social, economic and environmental impacts. If there's a route through the study area that you like or don't like, this is the time to share that with us so we can take your input or concerns into account as part of our study. In about three years, we'll likely come back to discuss a possible route in more detail.
Under the Fixing America's Surface Transportation (FAST) Act, the Sonoran Corridor has been designated as high-priority route that would support the economy of southern Arizona and the entire state while, relieving congestion at the interchange of I-10 and I-19 in downtown Tucson.
We want to hear from you before the deadline of Friday, July 14. Here's how:
Complete an online comment form at azdot.gov/SonoranCorridor.
Visit gg.mysocialpinpoint.com/sonorancorridor to select any part of the study area that's important to you, drop a virtual pin onto it and leave your comments. This interactive tool is available in Spanish too.
Email your comments to

[email protected]

.
Mail your comments to: Sonoran Corridor Tier 1 EIS Study Team, c/o ADOT Communications, 1655 W. Jackson St., Mail Drop 126F, Phoenix, AZ 85007 (must be postmarked by 5 p.m. Friday, July 15, 2017, to be included in the project record during the scoping phase).
There also is a toll-free bilingual information line: 855.712.8530.
We have no route, timetable or funding for the Sonoran Corridor so far. What we have is a chance for you to let us know your thoughts. For more information on the Sonoran Corridor, visit azdot.gov/SonoranCorridor.