Spanish Blog: MANEJO DE INCIDENTES DE TRÁFICO
Spanish Blog: MANEJO DE INCIDENTES DE TRÁFICO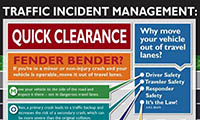 NOTE: Today's blog, for our Spanish-speaking audience, explains what to do in a fender bender. It's called Quick Clearance.
By Lourdes Lerma / ADOT Communications
Qué hacer si se involucra en un choque leve y sin lesiones, y su vehículo funciona:
Mueva su vehículo hacia un lado del camino e inspecciónelo ahí – no en los carriles de circulación, ya que son peligrosos.
Muchas veces, un primer choque provoca la congestión vehicular y aumenta el riesgo de otro choque más, el cual puede ser más grave que el primero.
Los vehículos involucrados en un choque sin lesiones y en dónde el vehículo aún funciona, de acuerdo a la ley de Arizona, debe ser removido del camino.
Personal de emergencia – policía, bomberos, grúas, etc. – necesita también un espacio seguro para trabajar. En los Estados Unidos, cada 6 días, un chofer de grúas muere atropellado.
¿Por qué debe quitar su vehículo de los carriles de circulación?

Por seguridad para el conductor
Por seguridad para el viajero
Por seguridad para el personal de emergencia
¡Es la ley! (A.R.S.28.674)
Si tiene preguntas puede comunicarse conmigo al [email protected].
 
---
Spanish Blog Series
To better serve Arizona's Spanish-speaking community, our occasional Spanish blog series covers all aspects of transportation including safety and the Motor Vehicle Division.