Portion of Loop 303 project now nearly 90 percent complete
Portion of Loop 303 project now nearly 90 percent complete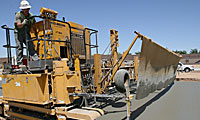 If you've driven the Loop 303 recently, you know that construction is now in full swing from I-10 all the way up to Mountain View Boulevard near US 60 (Grand Avenue)…
Crews are working to turn what was a two-lane roadway into a modern freeway (three lanes in each direction).
While the entire corridor won't be finished until 2014, there is a section in Surprise – from Peoria Avenue to Mountain View Boulevard – that is nearly 90 percent complete. That means by around mid-July, drivers in the West Valley will notice a big difference along this six-mile stretch!
Not only will there be three lanes in each direction, but the project also includes a median, auxiliary lanes and signalized traffic interchanges at Bell, Greenway, Waddell and Cactus Roads.
The freeway will be essentially finished (along the Peoria Avenue to Mountain View Boulevard portion only), but crews will need to come back in the fall to place rubberized asphalt.
On the project site Right now, crews have paved most of the southbound lanes. You might remember that the northbound side was completed first (north- and southbound traffic now travels along a portion of the improved northbound lanes).
Retaining walls and the sound walls are up, too.
Crews continue to work on curb and gutters, lights, fencing, and cable barriers. They'll also be stabilizing the slopes on the project with seeding and wattles. On the heels of this section's completion, a landscaping project will start up to spruce up the freeway-facing areas.
Drivers will also notice that the portable batch plant will soon be moved from its current spot at Greenway Road to a location further south, so that it may be used for other portions of the Loop 303.
Drivers might also have observed two piles of dirt near the Grand Avenue and Loop 303 intersection. That is dirt that's been excavated as a part of this project. It will be recycled and used once work starts on the 303/Grand Avenue traffic interchange.