Ask ADOT: What are those weird white lines on the road?
Ask ADOT: What are those weird white lines on the road?
By David Woodfill / ADOT Communications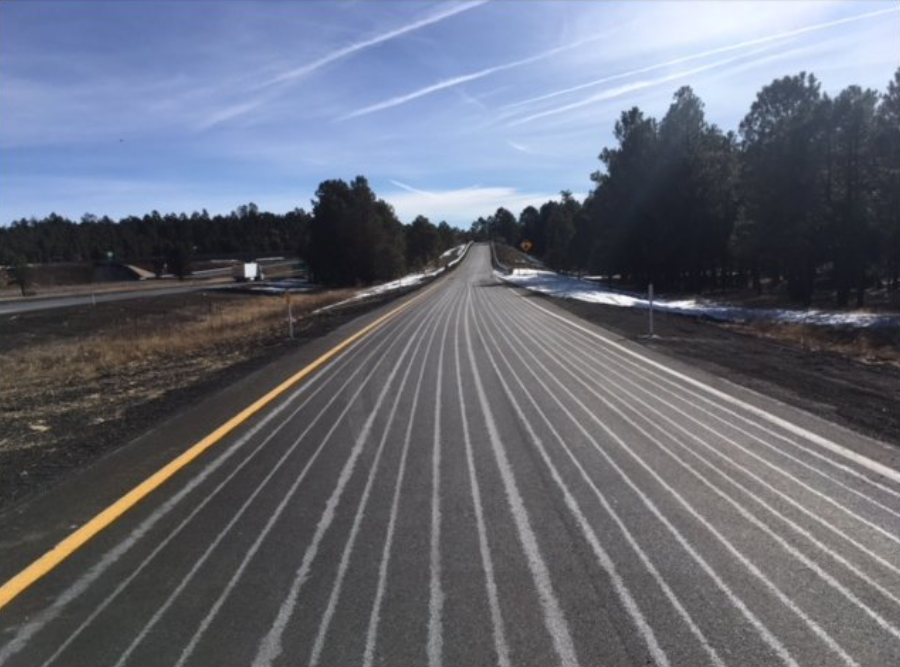 Here's a question we haven't received in a while, but with more snow expected up north, some motorists may wonder - what are these vertical white lines often seen on the roads?
No, this is not some sort of alien landing strip. The answer is much more down-to-earth. 
"That is an anti-icing strategy known as brine application," said Kevin Duby, Statewide Road Weather Manager. "It is a proactive approach that we use to delay the ice bonding to the roadway."
In other words, as snow falls on the road, and ice tries to form, the solvent stops the process. 
Another question we're frequently asked is whether the stuff safe for vehicles.
"Any salt substance can be corrosive to vehicles," Duby said. "However, in the situation pictured, it is usually dried on the roadway quickly. We also have corrosive inhibitors added to our deicing products, which is typically used after the snow has bonded to the road."
With more snow expected in the high country through tonight, drivers can expect to see this and other snow mitigation efforts out on the road. 
However, road preparation is only a part of safe driving during winter weather. Drivers are encouraged to "Know Snow" and make sure they and their vehicles are prepared. That includes making sure your vehicle is in good working order; having a winter driving kit with such essentials and warm clothing, a small bag of sand or cat litter, extra snacks and water, and a fully charged cell phone; and driving slower and expecting slick conditions. If motorists come across one of ADOT's 200 snowplows out doing its job, they should remember to stay at least four car lengths behind it and never try to pass a plow.
If you know winter weather will be part of your drive, the best advice is to delay travel if possible. That allows plows to do their work and for the weather to clear. If driving is necessary, check road conditions at AZ511.gov or by using our AZ 511 app.
---
This is part of a series of blogs called "Ask ADOT." If you have a burning question about transportation infrastructure, history, or you see something on our highways that piques your interest, send us a tweet or message us on Facebook and we'll try to find more information on it for you.