Road Trip Safety
Road Trip Safety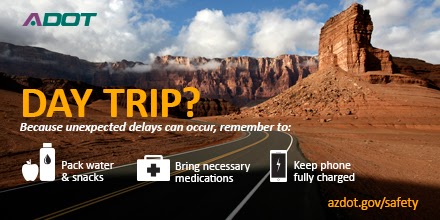 Planning ahead is key to the success of your road trip. Whether it's a holiday weekend, family vacation or other special occasion, ADOT wants you and your passengers to arrive at your destination safely.
Road Trip Safety Tips
Always remember: Safety is your top priority. Don't take chances that could endanger yourself, your passengers or other travelers.
Plan your travel route in advance.
Notify someone of your route, destination and projected arrival time.
Visit Arizona Traveler Information, download the AZ 511 app or dial 511 for updated road and weather conditions.
Check your vehicle, including tire pressure, belts and fluid levels. Your vehicle should be in optimal condition before your journey begins.
Get a good night's rest before starting out.
Buckle up, including all passengers in your vehicle.
Secure children in an age-appropriate car seat.
Stay patient, don't speed, tailgate or drive aggressively.
Never drink and drive.
Take a break if you're feeling fatigued or need to stretch.
If you must pull over, move your vehicle as far away as possible from travel lanes.
If you pull over or exit for a break, avoid parking your vehicle on dry grass and driving through tall grass. Hot vehicle parts can spark a brush fire.
Expect the unexpected; know that you could encounter delays because of bad weather, heavy traffic or roadway incidents.
Allow extra time to reach our destination, especially during holiday weekends when more travelers are on the roads and highways.
Pack the Necessities
Anytime you travel in Arizona, be sure to bring extra drinking water. You should also travel with a fully charged cell phone and a charger, and hand sanitizer, wipes and a cloth face covering to protect yourself and others. You can also put together your own kit to keep in your car that includes these items: 
Emergency travel items, like battery cables and safety flares
A first-aid kit that includes pain relievers, disinfectant, bandages and any necessary prescribed medications
A flashlight with extra batteries
Snack foods
A road map
Extra radiator water, especially if you're traveling in hot weather and/or driving on highways with dramatic uphill climbs
Traveling with Pets
Always secure pets in the vehicle. You can use a seatbelt designed especially for your pet or a well-ventilated carrier that allows your pet to stand up and turn around comfortably.
Leash your pet before you open any vehicle doors.
Keep pets away from open windows while you're driving and when you stop; tragically, pets can jump from vehicles and cause a crash, suffer serious injuries or run away.
Be sure your pet has current identification and is current on vaccinations.
Bring some of your pet's regular food, drinking water and any medications he or she regularly takes just in case you're delayed by weather, car trouble or another roadway incident.
Talk to your veterinarian about pets and car sickness; it's not uncommon for dogs, cats and other pets to get motion sick. Your veterinarian might be able to prescribe medication or offer other solutions, making the long drive more enjoyable for everyone in our vehicle.
Traveling into wintry conditions? Check these safety tips first!
Find out what to do if you drive into a dust storm, monsoon or heavy rain.