Adopt a Highway: Prescott Litter Lifters and high-country volunteer heroes
Adopt a Highway: Prescott Litter Lifters and high-country volunteer heroes
By Mary Currie / ADOT Communications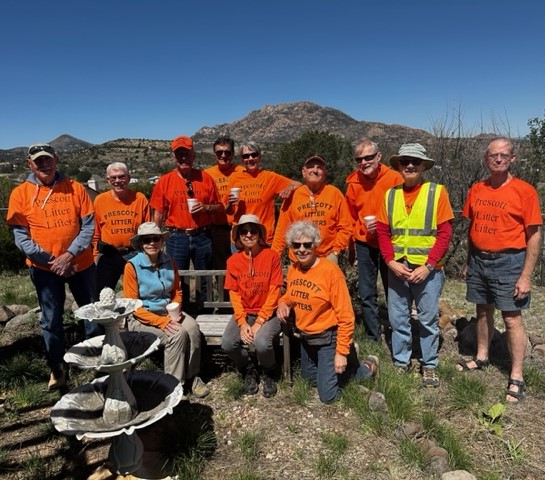 Every cleanup day is a new experience for the Prescott Litter Lifters, an Adopt a Highway volunteer group whose beginning dates back to 1981, according to group leader and co-manager Farrish Sharon.
Seven miles of state highway along state routes 69 and 89A are permitted to the group. Recently volunteers responded to a heavily littered site along State Route 69 where 15 bags were filled with personal wipes, water bottles and other trash that had been strewn along the roadway for nearly a mile.
Fortunately, Prescott Litter Lifters take action by removing litter that would eventually make its way from alongside roadways to culverts and waterways. So far this year the group has reported 327 bags of litter removed from adopted segments. That's about 5,000 pounds of unsightly litter, not including large
or bulky items.
Once in a while volunteers find cash and loose change among the trash. Sharon told us in a previous interview that a traveler once left a note of appreciation with a $20 bill tucked inside. The most interesting find was a credible looking $100 dollar bill that was determined by the bank to be a counterfeit. Donations, along with cash found by volunteers, are used to purchase monogrammed safety vests and supplies.
Prescott Litter Lifters welcomes volunteers to participate in cleanups that happen twice weekly. That link will take you to the group's website for contact information.
If you'd like to adopt your own 2-mile stretch of state highway in the Prescott area or another location in Arizona, please contact us or get more information at azdot.gov/adoptahighway. ADOT always needs more volunteers, but you can be a hero at home too. Take a bag with you on walks in your community to help keep the neighborhood clean. Bagging trash is great exercise and a good deed that may be contagious.