ADOT closes certain state routes for winter months
ADOT closes certain state routes for winter months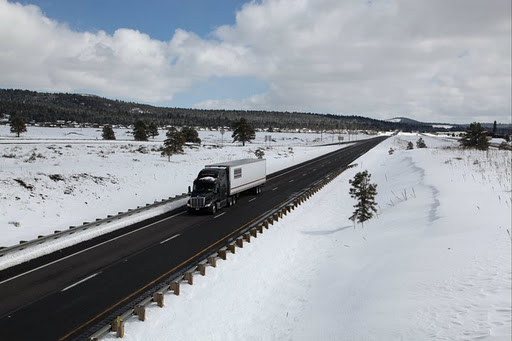 Snow-covered, icy highways get swift attention from ADOT crews each winter, but some routes face factors so severe, that completely closing the road down for a few months is the best option.
A handful of state routes are annually shut down because they're located in areas where HEAVY snowfall is common. These routes typically see little traffic – so it makes sense for ADOT to use its resources to keep more heavily traveled highways open.
When ADOT closes a road for the winter, maintenance crews will set up barricades at the closure points and then drive the roads to make sure no vehicles are in the closed sections.
So far, a few routes have already been closed, or are scheduled to close within a few weeks …
A portion of SR 366, also known as "The Swift Trail," was closed on Nov. 15. This is the scenic highway that leads to Mount Graham – the closure begins at the end of the paved highway, just beyond the turnoff to Shannon Campground. ADOT may need to close the highway at lower elevations as necessary to allow for snow removal (this highway is too narrow to allow traffic to pass the snowplow). The Swift Trail should open up again in mind-April, unless conditions require it to be closed longer.
SR 67 – between Jacob Lake (US 89A) and the North Rim of the Grand Canyon – closed on Nov. 28. This portion of the route won't be cleared of snow during the winter since the visitor accommodations at the North Rim are closed. Expect this road to re-open around mid-May.
SR 473 to Hawley Lake is slated to close Nov. 30.
SR 261 – between Big Lake and five miles south of SR 260 – is scheduled to close on Dec. 19.
A five-mile segment of SR 261 from the junction of SR 260 south toward Big Lake may be left open until Jan. 16, depending on the amount of snowfall.
SR 273 between Sunrise Park and Big Lake will close Dec. 19. The segment of SR 273 between SR 260 and Sunrise Park will remain open to provide access to the ski area.
It's important for motorists to drive with caution as they encounter winter conditions. Check out ADOT's "Know Snow" web page for maps and tools to assist you this season. You can also stay up-to-date with the latest highway conditions by visiting az511.gov or by calling 511.