ADOT enlists ASU engineering majors to help create new cattle guard concept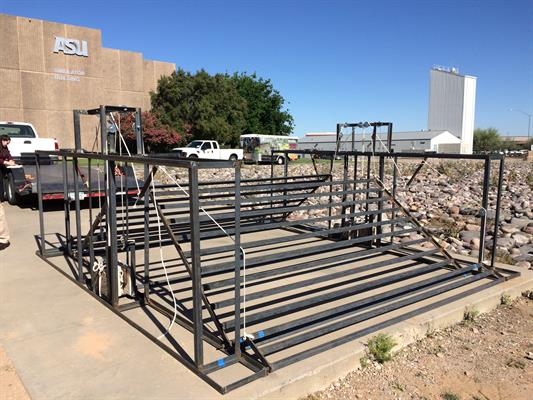 By Ryan Harding / ADOT Communications
At the beginning of each school year, engineering students at Arizona State University's Polytechnic campus get paired up with an organization to help solve a problem as part of their senior capstone projects.
This year, ADOT tasked a group of students to come up with a new concept for a system to keep cattle and horses off highways.
Managed by Dr. Kohinoor Kar of the ADOT Research Center and based on system needs shared by Bill Harmon, ADOT's Southeast District engineer, seniors Kevin Davidson, Hanqing Chen, Marissa Rubio and Zhemin Ni developed a prototype with performs two functions.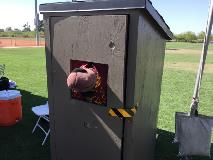 The first is a mechanical cattle guard that uses a weighted pulley system to lower overlap gates that are normally raised, preventing cattle from crossing. When a vehicle approaches, the pulley system lowers the gates. Once the vehicle passes, the gates lift back into position.
The second part is a noise and movement device that can be positioned near the cattle guard. This electronic system uses ultrasonic sensors to detect approaching animals. Once an animal is in range, the system will emit a predator noise and a decoy of a predator will pop out of the structure.
"This effort has been a win-win for ADOT and these students," Dr. Kar said. "They have demonstrated their innovative thought process and approach by giving us a concept for ADOT to look at and potentially build on."
The ideas and prototypes become the property of ADOT, where engineers may take certain elements for further study and refinement. Someday, the students' ideas may be used to improve the state highway system.