ADOT has some celebrating to do this week
By Audrey St. Clair / ADOT Communications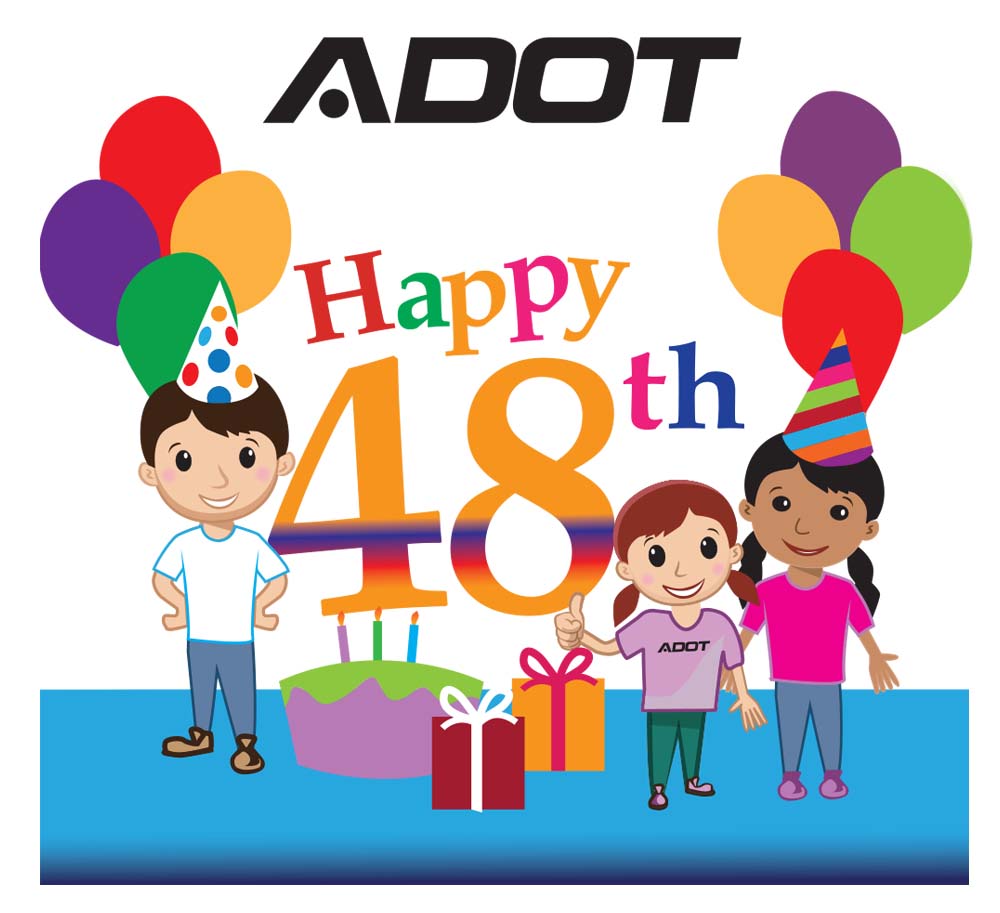 Hey, ADOT Kids! There is a birthday coming up on July 1! Do you want to guess who will be celebrating? It's ADOT's 48th birthday!
On July 1, 1974, the Arizona Highway Department officially became the Arizona Department of Transportation. Until then, the Arizona Highway Department was mostly focused on freeways. Once ADOT was born, the Department broadened its transportation duties to include long-range planning for transportation across the state; managing some airports, such as the Grand Canyon Airport; railroad crossings; and operating the Motor Vehicle Division (MVD), which provides driver licenses and registrations for all cars and trucks from Arizona. Did you know that almost 6 million Arizona drivers are licensed by the MVD?
ADOT carefully plans transportation across the state so that everyone can use roads safely, including bicycles, pedestrians and mass transit. You might be wondering, "What is mass transit?" That's when many people are carried in the same vehicle, like a bus or train.
At ADOT, we care about your safety and are always working toward improving safety on our roads. Here are four tips for you, ADOT Kids, that you can share with your family!
During the summer monsoon season, never drive into a dust storm. If you are caught in one, ADOT recommends you slow down, pull aside, turn off your lights, set your parking brake and take your foot off the brake. You don't want any cars behind you to see your lights and think you are driving on the road and crash into you. Stay in your car with your seatbelt buckled. Check out this page about dust storms on the ADOT Kids website for some fun activities you can download, and be sure to listen to our song about dust storms, the "Ballad of Dusty Rider!"
Always wear your seatbelt in the car.
Don't litter. If you see someone toss trash from a vehicle, you can dial 511 to report their license plate to the litter complaint line. They will get a letter reminding them not to litter, and a trash bag for their car.
Slow down and pay attention while driving in work zones to keep the workers safe.
The ADOT Kids website has lots of fun activities and videos for kids. Check it out!