ADOT Kids

#ADOTKids
What is ADOT Kids All About?
ADOT Kids was created to spark children's curiosity in how things work and what makes things go ... to tap into their interest in science, technology, engineering and math. ADOT Kids has lots of free, downloadable activity sheets, links to videos, and more! Due to the COVID-19 pandemic, Arizona schools closed on March 15, 2020, and Governor Doug Ducey issued a "Stay Home, Stay Healthy, Stay Connected" executive order. With thousands of parents teleworking and homeschooling their children, Arizona Department of Transportation communications team members brainstormed about how ADOT could help educate and entertain children during these unprecedented times.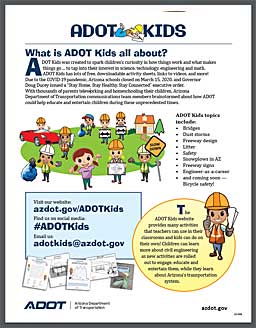 View the ADOT KIDS flyer
What are Civil Engineers?
Civil engineers design structures using knowledge that kids learn in school in subjects like math, science, English (when they write reports) and computers to help them do their work. At ADOT, civil engineers help cars and other vehicles get from place to place. They design freeways so that traffic jams can be avoided, keeping in mind safety and efficiency. What if a road needs to go over a train track, or over a mountain or through a canyon? Civil engineers can solve this by designing tunnels or bridges to go through, over or even under these obstacles. They also can supervise the construction and maintenance of their designs to make sure everything is going according to plan and the roads are in good condition.