ADOT narrows passenger rail alternatives down to 3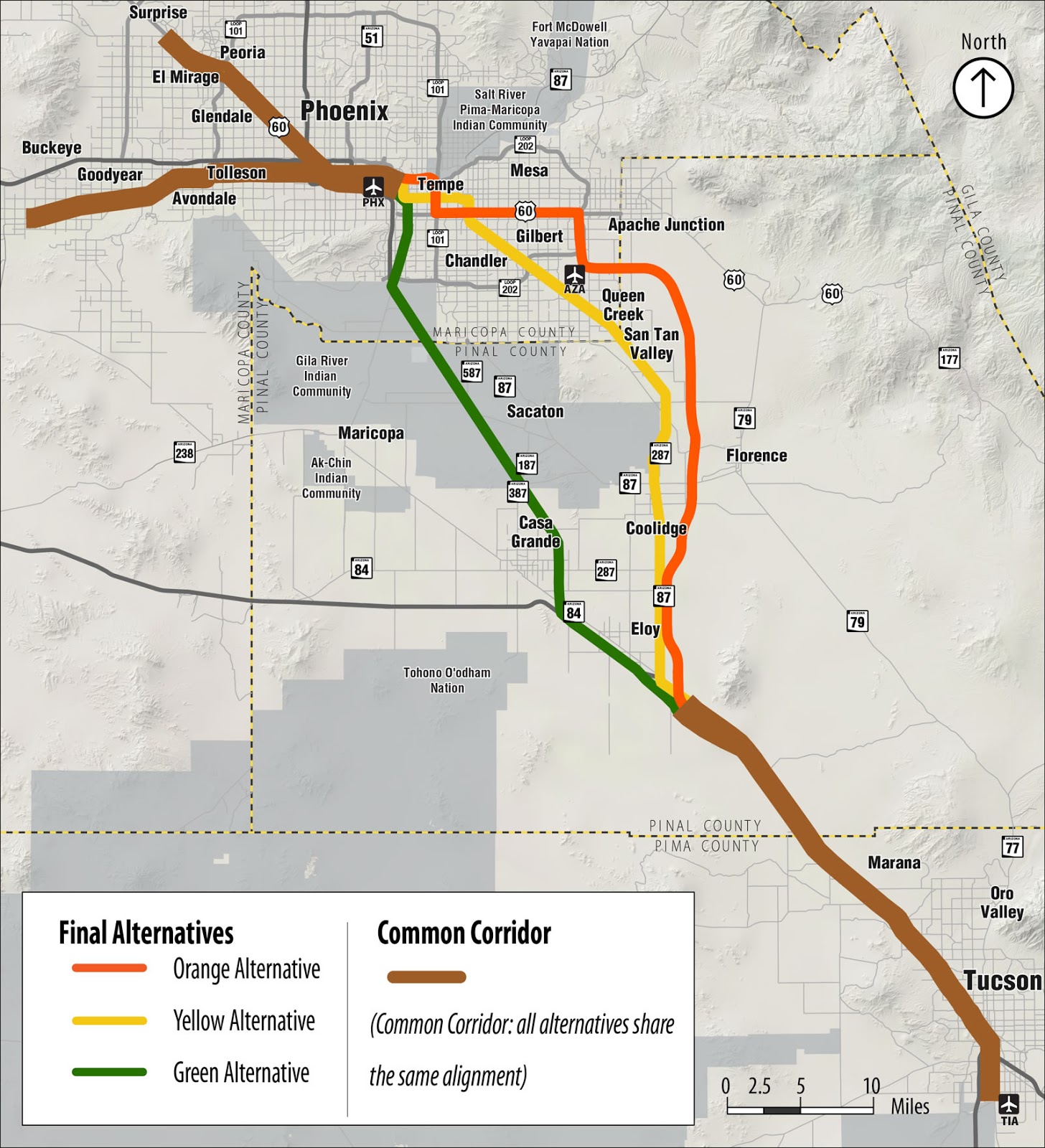 You remember ADOT's Passenger Rail Corridor study, right?
It's being used to look the possibility of using rail to link Phoenix and Tucson. Late last year, the public was asked to weigh in on seven potential alternatives. Since then, ADOT has been able to utilize that feedback and narrow the list of possible alternatives from seven down to three.
Which three alternatives made the cut?
ADOT is moving forward with studying the Green Alternative, which would run along I-10 between Phoenix and Tucson; the Orange Alternative, which would serve East Valley population centers and share part of its alignment with the planned North-South Freeway Corridor; and the Yellow Alternative, which would also serve East Valley communities and share right of way with Union Pacific Railroad north of Eloy. All three alternatives would run along I-10 south of Eloy. For planning purposes, the Teal Alternative, which is a combination of the Orange and Yellow Alternatives, is being evaluated as an additional option.
ADOT has been working closely with the Federal Transit Administration, the Federal Railroad Administration and local governments and planning organizations in Maricopa, Pinal and Pima counties to determine which routes would move forward for further study. The decision to pursue these three alternatives came not only from technical evaluations, but was also largely based on public input. During the last two years of the study, nearly 7,000 people across Arizona completed surveys to weigh in with their ideas of which routes best served communities.
What about the routes that were ruled out?
The alternatives that are not moving forward for further study include the Blue Alternative, which would have established an express bus service along I-10 between Phoenix and Tucson; the Red Alternative, which goes through western Pinal County; and the Purple Alternative, which serves some East Valley communities, along with Sacaton and Casa Grande in Pinal County. The study still includes the no-build option.
What's next?
Now that the three final alternatives have been identified for further study, ADOT and the study team will move forward with the Draft Tier 1 Environmental Impact Statement.
There will be a 45-day public comment period early next year, along with three public hearings, that will address the Draft EIS and allow the public and stakeholders to comment on the document.
This fall, ADOT will participate in another round of public outreach events in Maricopa, Pinal and Pima counties to provide community members with information on the progress of the study and the next steps. ADOT is working toward establishing the one preferred alternative for further study by the end of 2013 and wrapping up the study next year.
Ultimately ADOT's passenger rail line will be designed as a blended service: An express service would have few stops between Phoenix and Tucson and a local service would stop at several communities along the way. There is currently no construction schedule and no funding identified for a project to build a rail system between Phoenix and Tucson. It will be up to the public and policymakers to decide if the project is feasible and how to generate the funding to pay for the project.
For more information visit ADOT's Passenger Rail Corridor Study website.