ADOT receives award for innovation in Nogales Port of Entry project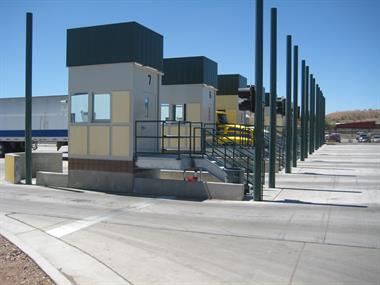 America's Transportation Awards presented a Best Use of Innovation award to ADOT for the Nogales Mariposa Port of Entry project completed in summer 2012.
ADOT received the award during a presentation at the Western Association of State Highway and Transportation Officials annual meeting on Aug. 5 in San Francisco.
By the way, the America's Transportation Awards competition is co-sponsored by AAA, the U.S. Chamber of Commerce and the American Association of State Highway and Transportation Officials (AASHTO). It was launched in 2008 to recognize projects accomplished each year by state departments of transportation – these awards highlight the value that departments of transportation add to their communities.
About the project
The Nogales Mariposa Port of Entry received new technology to allow faster processing of trucks crossing the border, thereby improving overall traffic flow and processing capability at one of the busiest ports of entry in the United States.
The project involved collaboration between ADOT, the Federal Highway Administration, Federal Motor Carrier Safety Administration, the U.S. General Services Administration, U.S. Customs and Border Protection and the Arizona-Mexico Commission.
Upgrades included seven Slow Speed Weigh in Motion (SSWIM) scales, seven credential processing booths and a larger building to accommodate more staff to process commercial truck permitting and issuance of citations.
The project cost $8.5 million and took a little more than six months to complete. In addition to improvements at the port of entry, ADOT realigned and widened a portion of State Route 189 that runs adjacent to the port, further improving traffic flow in the area.
For more about ADOT's ports of entry, check out our blog post from earlier this week.