ADOT volunteers keep Arizona highways beautiful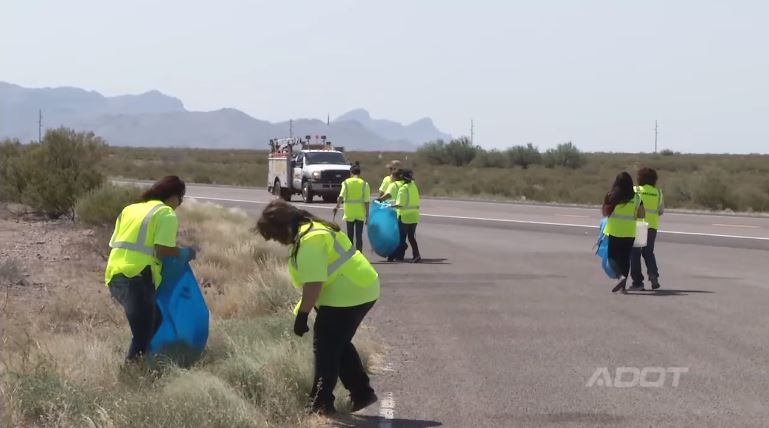 By Dani Weber / ADOT Communications
Arizona is famous for its beautiful, sprawling deserts and breathtaking vistas. To help keep it that way, volunteers all across the state donate their time and energy to picking up litter and debris along the side of the highway. And you can too!
State DOTs everywhere run their own Adopt a Highway programs, and ADOT is no exception. It allows individuals and even companies and corporations to take responsibility for keeping roads not only beautiful, but also clear of debris that can become dangerous to motorists and pedestrians alike. And the new overseer of the Adopt a Highway Program, Communications Program Manager Mary Currie, is looking to recruit more volunteers – from ADOT.
ADOT's Adopt a Highway Volunteer Program already has more than 800 volunteer groups, and almost 11,000 individual volunteers, who clean up litter along Arizona's roadways. Currie wants to add to those numbers with volunteers who work for ADOT too.
"I want to be part of it," Currie said, referring to the Adopt a Highway Volunteer Program. "When I talk to the public about opportunities to volunteer, I want to be able to share what I know firsthand as a volunteer in the program."
Currie considers this effort to be good stewardship for the agency. "If we want the public involved in taking care of roads, let's lead by example," Currie said. "I invite those thinking about adoption to come out and 'kick the tires' with us during a scheduled cleanup event on our segment of US 60."
"We're hoping to gain interest in the program and appreciation for the community and what our volunteers are getting out there and doing for us," she said. "It's about teamwork and community pride."
ADOT Communications has already gotten on board with Currie's plan and is scheduled to clean up a stretch of U.S. Route 60 – a total of four miles – on June 2, a Saturday.
Find out more about how to apply for a volunteer permit with the Adopt a Highway Volunteer Program by going to azdot.gov/AdoptaHighway.