ADOT's Long Range Transportation Plan is our roadmap; we need your input
ADOT's Long Range Transportation Plan is our roadmap; we need your input
By Jennifer Toth / ADOT Director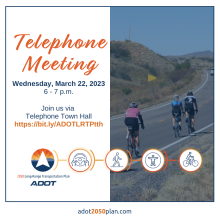 Safety, innovation and collaboration are the three main priorities I have as the director for the Arizona Department of Transportation. Our 2024-2028 Tentative Five-Year Construction Program addresses these priorities as we work to improve and maintain the state's highway system during the next five years.
Safety is paramount to what we do at ADOT. Our vision is "Moving Arizona to become the most reliable transportation system in the nation." The 2024-2028 Tentative Five-Year Construction Program identifies improvements to existing roads and bridges while also identifying opportunities to construct new roads and bridges that improve safety. We plan to invest $2.6 billion in pavement and bridge preservation projects across Arizona, which will upgrade pavement that is rated in poor or fair condition. We need to continue investing in the system we have already built, to keep it safe and functioning to meet the growing needs of our state.
The program also identifies opportunities where we can use the latest technology to improve interchanges and be innovative in our approaches to make the state's transportation system safer. I am a big believer in innovation as it helps us improve the work we do.
ADOT's 2024-2028 Tentative Five-Year Construction Program requires us to collaborate with stakeholders in identifying the projects to put into the program to meet the critical needs of the state. We have a robust planning to programming process that ensures we collaborate with partners like cities and towns, counties, councils of governments, regional transportation planning agencies and other entities as the program is being developed.
One important stakeholder we need to hear from is you, the public. I would encourage you to provide feedback between now and when the comment period ends at 5 p.m. June 1. We want your input on the projects being proposed in the program. 
Please visit the 2024-2028 Tentative Five-Year Construction Program website to learn more about which projects are in the program and ways you can share your comments. 
The State Transportation Board is expected to take formal action on the program at its June 16 meeting in Florence.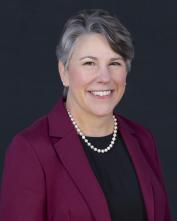 Jennifer Toth was appointed in January to serve as the agency director