Dawn of a new approach to dust storm safety
By Tom Herrmann / ADOT Communications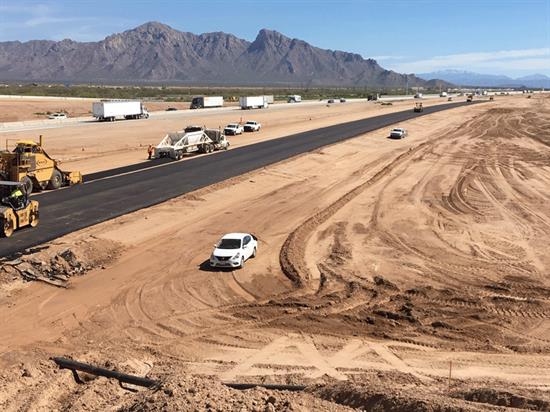 For the past 16 months along I-10 near Eloy, construction teams from the Arizona Department of Transportation and our contractor, Coffman Specialties, have been doing what we're trained to do: clear land, build new lanes and bridges, and recycle a 4-mile section of freeway to build the foundation for new freeway lanes.
Now, we're about to start construction on something we've never done before – something no one has ever done before – in a spot in the desert where it can make the greatest impact on driver safety.
We're beginning construction on a first-of-its-kind dust detection zone in the heart of Pinal County. The first work involves drilling and installing the foundations for new electronic message boards that will provide important safety information to drivers, followed by installing 10 miles of fiber-optic cable to connect the equipment that will make up the dust detection project.
As soon as we receive approval for a dedicated radio frequency for our long-range radar, we can schedule delivery and construction.
June is expected to see two important steps forward. First, eastbound traffic will be moved to new travel lanes that have been under construction since January. Later we'll open a new eastbound on-ramp from State Route 87.
This summer we'll add short-range radar to detect dust along the freeway, variable speed limit signs to slow drivers when the dust blows and cameras so our Traffic Operation Center in Phoenix can keep an eye on the area.
This pilot dust-detection zone will keep watch on an area north of Picacho Peak where we have experienced the most dust-related crashes.
We expect to have all of this in place by early fall. All in the name of driver safety.