Engineer-in-Training Program participants grow with ADOT
Engineer-in-Training Program participants grow with ADOT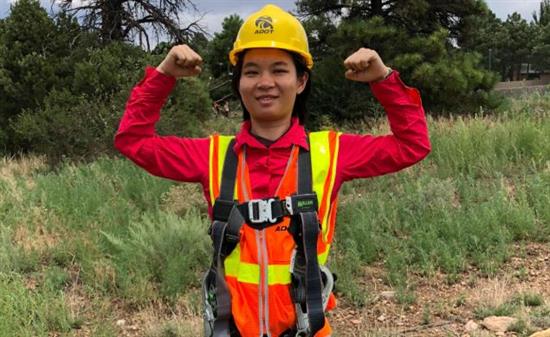 By Laurie Merrill / ADOT Communications
Yudi Lei has always been fascinated by transportation and has a knack for math and science. Plus, she likes to tinker.
"I like to fix stuff, like my bicycle," said Lei, who was born and raised in China and graduated in 2016 with a bachelor's in civil engineering from a Chinese university.
After earning her master's in transportation engineering from Arizona State University, Lei's next step was only natural: joining the Arizona Department of Transportation's Engineer-in-Training Program.
She decided to become an engineer to combine her loves of travel and drawing.
"I design in the office and I travel myself," she said.
Now in her second year with the Engineer-in-Training Program, Lei has found a niche working on intelligent traffic design and traffic data prediction.
"I want to be involved in the future of transportation," Lei said. "All the devices ADOT is working on are devices for the future."
When Joselyn Valero started her engineering career with the ADOT, she was sure she wanted to concentrate on bridge design. But her path changed after rotating through multiple areas of study during the two-year Engineer-in-Training Program.
Valero discovered her true passion elsewhere within the Infrastructure Delivery and Operations Division.
"We inspect and supervise construction projects," said Valero, who was hired as a full-time employee in 2017 in the department's Casa Grande office. "We make sure everything is built according to all the ADOT specifications, all the ADOT rules and all the ADOT plans."
Valero first joined ADOT in 2013 as an intern after earning her bachelor's and master's degrees in construction engineering from Arizona State University.
"I love ADOT and really hope to make a leadership career here," Valero said.
Both women are products of the Engineer-in-Training program, an apprentice-style education that provides hands-on experience and side-by-side mentoring to graduates with civil engineering, technology or construction management degrees.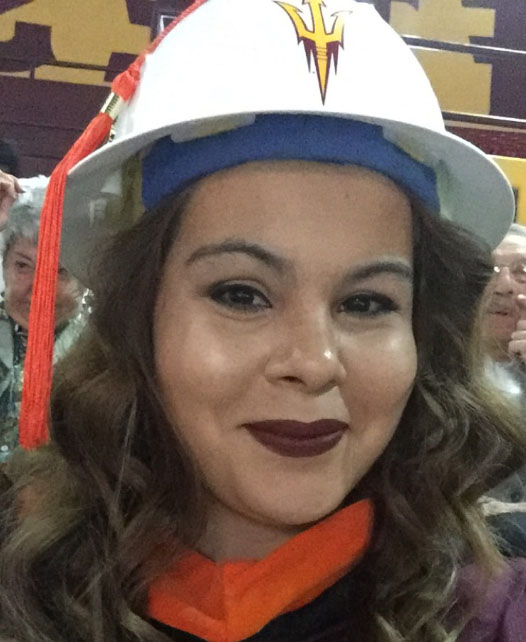 "I am super-excited about this program," said Candee Samora, Engineer-in-Training and Intern Program manager. "These young adults come in and they have so many tools already along with their fundamentals of engineering. They are motivated and amazing."
Each has an individually developed two-year schedule in the Engineer-in-Training Program that allows the participant to choose from a variety of disciplines for rotations that last from one to six months. These include such areas as project management, roadway design, environmental planning, multimodal planning and materials lab, among others.
There are currently 10 participants in the Engineer-in-Training Program, Samora said. Each has entered the department with the fundamentals of engineering portion of the professional examination complete. ADOT offers help in attaining the next major milestone: the rank of professional engineer.
Trainees often shine in leadership roles, Samora said. It's an entry-level training program that provides a foot in ADOT's door, providing a win-win for participants and the agency.
One such alumnus, Rob Samour, ADOT's senior deputy state engineer for major projects, credits the Engineer-in-Training program with helping get him where he is today.
"The EIT program was a good introduction to my career in civil engineering, and it showed me the great things that (ADOT) does on a daily basis," Samour said in a testimonial for the program.
Resident Engineer Adam Brahm, who oversees the Salt River segment of South Mountain Freeway construction, is among those who heap praise on the experience.
"School can supply you with the pool of knowledge for becoming an engineer, but you need a platform from which to leap into the profession," Brahm said in his testimonial. "ADOT's EIT program has provided me many platforms from which to dive into different facets of engineering."
But it's the people that make working at ADOT so enjoyable, Lei and Valero said.
"Every time I ask anyone anything I don't know, they make themselves available," Lei said. "They are willing to train people. That's really impressive."
Said Valero: "The people are amazing."