Form and function meet in old Ligurta Underpass
By Kathy Cline / ADOT Communications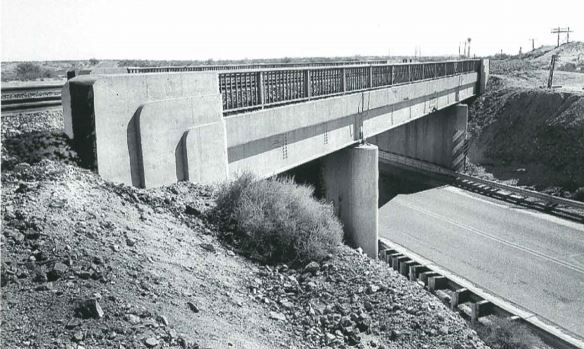 To some, it might look like any one of dozens of rural Arizona highway bridges. However, the Ligurta Underpass, just east of Telegraph Pass when heading toward Yuma, is a bit more gussied-up than most.
Construction on the underpass started in 1947, when Arizona Highway Department engineers began considering replacing the existing three-span steel girder underpass that carried US 80 under the Southern Pacific Railroad. At the time, US 80 was a major route across both Arizona and the southern half of the United States.
The work was finished in 1949, and the overpass served highway traffic until US 80 gave way to the new route of Interstate 8 in the late 1960s. That stretch of highway, bridge and all, was turned over to Yuma County. Today the Ligurta Underpass – in unaltered condition – continues to carry traffic on what's now referred to as Old US 80.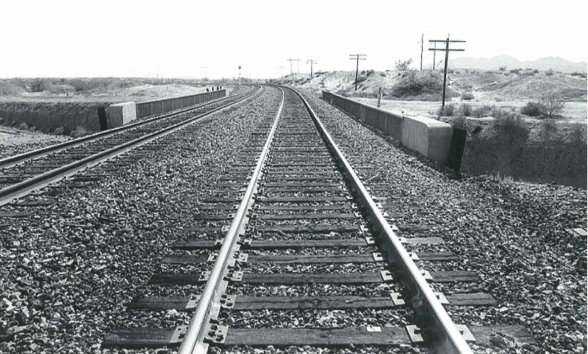 The significance of the underpass, however, is in its design rather than its function. The Arizona Highway Department typically used minimal detailing and plain facings on rural structures, reserving architectural flourishes for those in urban areas. The Ligurta Underpass is a noteworthy exception. Highway department engineers were so concerned with its proportions that they produced a line-drawing rendering of it in one-point perspective as part of the construction drawings.
With its clean proportions, and Art Moderne detailing, the Ligurta Underpass is one of the more aesthetically pleasing examples of rural bridge designed by the Arizona Highway Department.
You can learn more about the Ligurta Underpass in ADOT's Arizona Historic Bridge Inventory.