Grand story of the Old Black Canyon Highway
By Laurie Merrill / ADOT Communications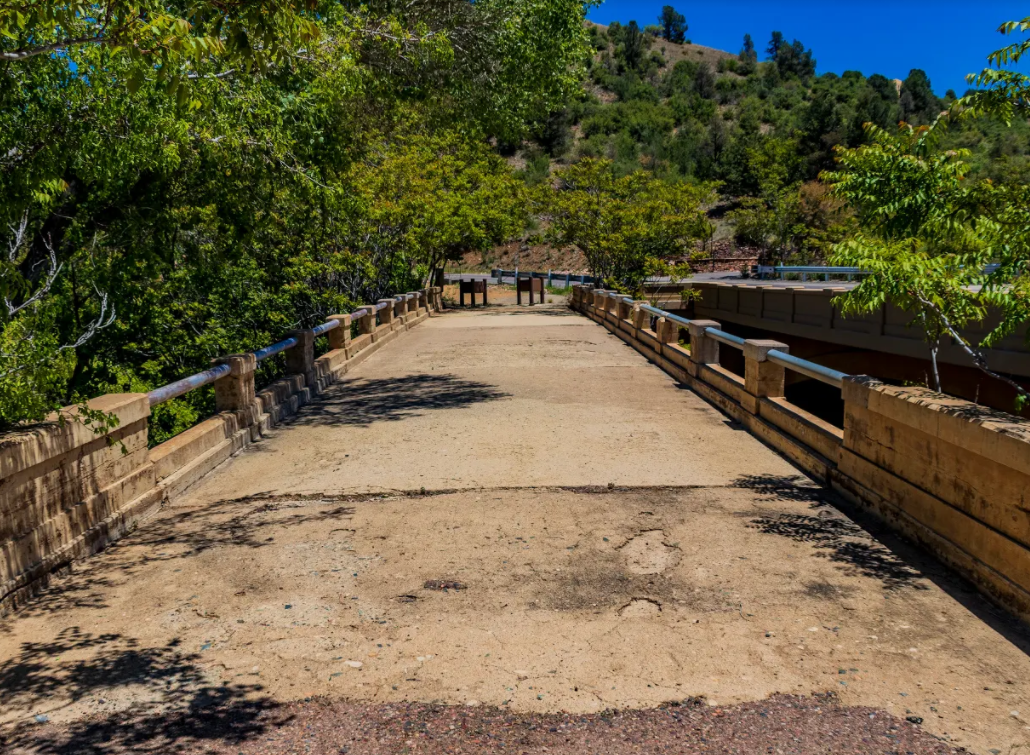 What you see in these photos may seem like little more than a chunk of old pavement.
And it's true that, today, this aged segment is merely a modest pedestrian walkway outside of Prescott.
But belly on up and listen closely. This is a relic of the "Old Black Canyon Highway," and it has a grand story to tell.
It begins in the pre-statehood days of the mid-1860s before there were highways, automobiles or railroads. It tells of a how a route that was little more than a footpath evolved into the Interstate 17 Black Canyon Freeway.
This is how it went, according to our comprehensive 2011 Arizona Transportation History.
The original Black Canyon Highway followed a Native American trail that wove along the Agua Fria west of Phoenix, twisted through a gorge and traipsed up a plateau that spreads from the Bradshaw Mountains to the edge of the Verde River valley.
Are you listening? Can you hear marching feet?
"In 1864, the part of this route between Dewey and Prescott was declared the first public road in the new Arizona Territory," ADOT's history says. "Soon it was being used by the U.S. Army as part of a route from Fort Whipple, outside Prescott, to Fort McDowell, east of Phoenix."
It had a major makeover in 1877, when Maricopa County included the Black Canyon route on a roster of wagon roads that would be constructed from Phoenix to Prescott.
Hear the galloping hooves?
In 1878, the first stagecoach line began operating on the route from Cañon, today's Black Canyon City, to Prescott. It may sound glamorous, but the horse-drawn carriages provided passengers a jarring 30-hour ride. There were steep climbs, dangerous crossings of the Agua Fria River and the threat of literal highway robbery by bandits.
But no matter how risky, the route was convenient (for the times), and when Arizona became a state in 1912 the stagecoach road along the Black Canyon route had become a favorite of early automobile enthusiasts.
Can you hear loud engines and honking horns?
The road stayed like that for a while. Competing highway projects, politics and an old-time railroad that shortened the trip prevented the Black Canyon road from turning into a major highway for several more decades.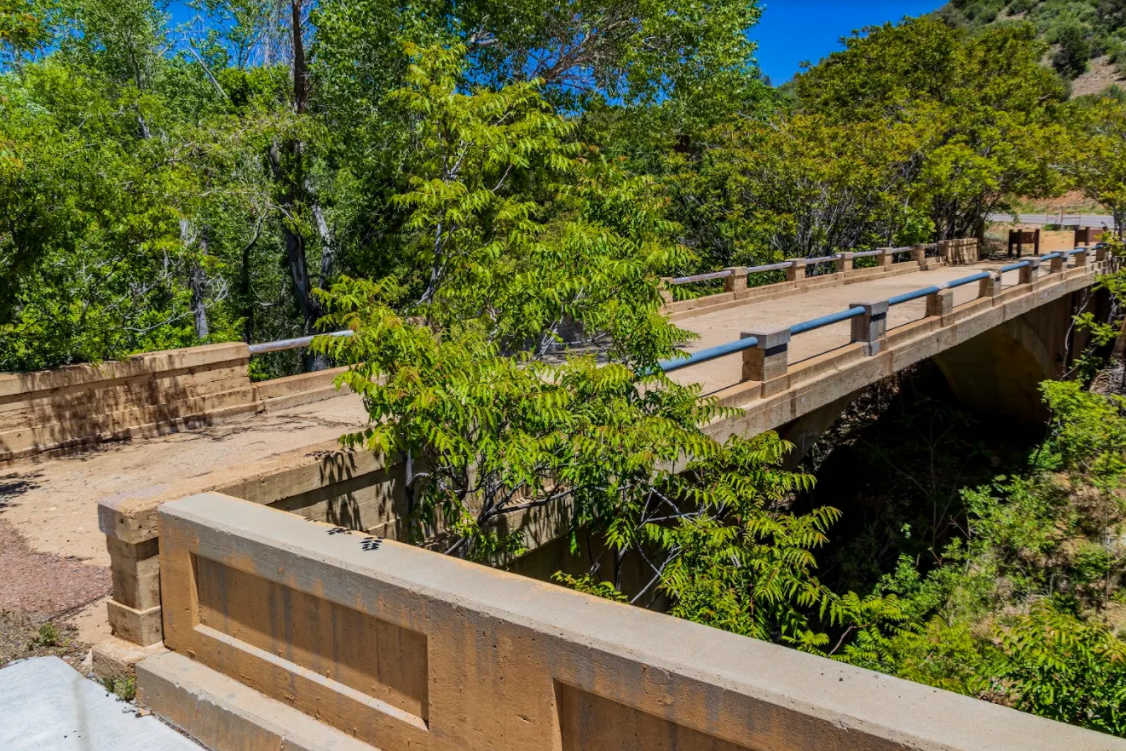 It wasn't until 1936 that construction began on State Route 69 between Phoenix and Prescott, a stretch that followed the Black Canyon route and would later comprise part of modern day Interstate 17. The project didn't get too far along before it was interrupted by the Great Depression and World War II.
After the war, the highway was realigned out of the canyon north of Black Canyon City and up onto the mesa. It bypassed Bumble Bee and the other old mining camps, which by then were mostly abandoned. The new highway was dedicated in December 1952, though it would not be completely paved until 1955.
There's more than a little sentimentality about making the trip between north and south in those days.
Songwriters Dean Cook, Lon Austin, and Tony Norris wrote the ballad "Rock Springs" about a 1950s family driving in an old pickup truck from Flagstaff to Phoenix at Christmastime.
Dolan Ellis, Arizona's State Balladeer, also performs this song, and did so in ADOT's studio along with two others in December 2019. It puts to verse the meandering route through Oak Creek Canyon, the Cleopatra Mine, Mayer and Bumble Bee. And it delights in the memory of how thirsty travelers would stop at Rock Springs for water and gas.
As the chorus goes:
And we'll stop at old Rock Springs, where the water flows so clean.
Cool water in the desert was a thirsty traveler's dream.
And we'd stop at old Rock Springs, where the water flows so clean.
Cool water in the desert was a thirsty traveler's dream.
Construction on today's I-17 started in earnest in 1956 and wasn't finished in northern Arizona until August 1978. Even this seems a ways back. But now you know how this important interstate grew from a footpath more than 160 years ago.
This was just a thumbnail sketch, but you can learn more about the extraordinary history of this highway in an earlier ADOT blog.