How the I-17 Black Canyon Freeway evolved from stage route to modern highway
How the I-17 Black Canyon Freeway evolved from stage route to modern highway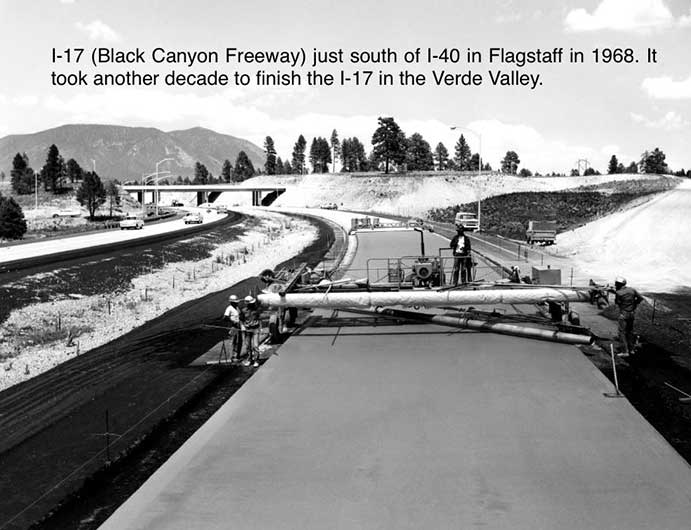 By Peter Corbett / ADOT Communications
The Interstate 17 Black Canyon Freeway is a direct route from Phoenix to Flagstaff and Interstate 40 with a jog to the east it passes through Verde Valley and up the Mogollon Rim.
But the path from Black Canyon stagecoach route to modern thoroughfare took a century and had as many twists and turns as the Apache Trail.
Difficult terrain, competing towns and routes, limited funding, the Great Depression and World War II all worked against completion of a highway and then an interstate directly to Arizona's high country.
Started in 1956, the Black Canyon Freeway wasn't finished in northern Arizona until August 1978, when the final 5.4-mile stretch from Copper Canyon to Montezuma Castle opened to traffic near Camp Verde. That was 40 years ago, when Arizona had 2.5 million residents, not today's 7 million. Gas was about 71 cents per gallon, Space Invaders was a new video game craze and "Grease" was a summer movie hit.
You can use the slider above to compare the highway today heading north into the Verde Valley around 1969, when it was being upgraded to interstate freeway. And you can click on the photos at right to get more information on those parts of Interstate 17 construction.
It was a busy summer for the Arizona Department of Transportation. In August, the Interstate 8 bridge over the Colorado River was dedicated in Yuma. A month later, a 67-mile stretch of I-40 from Kingman to Seligman was completed at a cost of $94 million. Plus, I-19 between Nogales and Tucson was nearing the finish line.
A century earlier, the first iteration of a Black Canyon route was scratched out north of Phoenix. In March 1878, the first stagecoach line began operating on a newly built road from Canon, today's Black Canyon City, to Prescott, according to historian Stuart Rosebrook. It was a jarring 30-hour stage ride from Phoenix to Prescott with risky Agua Fria River crossings and the threat of robbery by highwaymen.
Two decades later, a route was developed from Phoenix to Prescott via Wickenburg that generally followed the newly completed Prescott-Phoenix Railway.
After statehood in 1912, early automobile enthusiasts traveled the Black Canyon stage road and what came to be called the Prescott-White Spar route through Wickenburg and Yarnell.
In the 1920s, C.C. Small, Arizona Highway Department location engineer, noted that motor travel was evenly split between the two routes.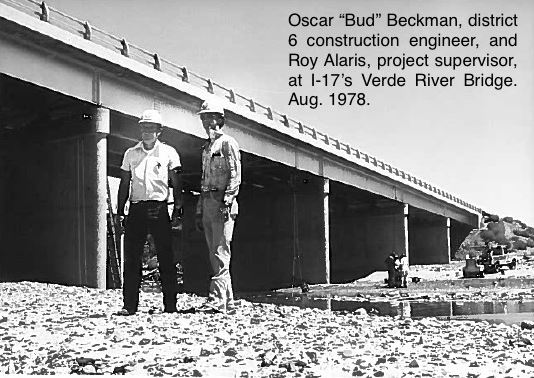 "One reason for this was that after one had traveled one route he always returned over the other in the vain hope of finding it better than the route already covered," Small said.
The highway engineer, like a radiator about to boil over, was under intense pressure from advocates of each route to choose their road for major improvements. Prescott and Wickenburg interests feared a major loss of tourism business if the Black Canyon route was improved.
Small picked the Prescott-White Spar route through Wickenburg, arguing that it was a less expensive construction option than the Black Canyon route.
Those road improvements, completed in June 1925, cemented the White Spar route as the main highway between Phoenix and Prescott and points further north for 30 years. It was designated as part of US 89 in 1927.
The Black Canyon route went from county road to state highway in May 1936. At the same, there was pressure on the Arizona Highway Commission to develop a state highway to Horsethief Basin, a remote spot southeast of Crown King that was targeted for a summer resort.
Meanwhile, lobbying continued for a more direct route to Northern Arizona. In 1940, the Phoenix Chamber of Commerce urged the commission to build a highway north along the Verde River to the Verde Valley east of present-day I-17. It was envisioned as part of the Great International Highway running from Alaska to Argentina.
The American Association of Engineers – Phoenix Chapter studied the Verde River route from Phoenix to Cottonwood and a Black Canyon route. The engineers estimated it would cost $6.36 million to build the 110-mile Verde River route. The Black Canyon route, the preferred option, was priced at $3.76 million for 98 miles of highway from Phoenix to Cottonwood.
After World War II, work started on the Black Canyon Highway in 1946 and it took nearly a decade to complete.
"Thus, the actual building of the roadway took less than 10 years, while getting it started took more than two decades," wrote Phoenix Gazette reporter Lloyd Clark in 1956.
The road was realigned east of Bumble Bee and Cordes up Black Mesa along the present I-17 alignment.
The first contract of $199,000 was awarded Nov. 15, 1946. It went to Phoenix-Tempe Stone Co. to grade and pave the Black Canyon Highway for 5 miles from Olive Avenue to Bell Road. With two other contracts, the highway was built to the foothills north of Phoenix by the fall of 1947.
In 1950, the Verde Independent reported that the state budgeted $450,000 to build the Black Canyon from Dewey to Prescott and another $450,000 for the highway through Copper Canyon into Camp Verde. W.C. Lefebrve, state highway engineer, said that section of steep, rocky terrain was the most difficult to build.
The Black Canyon Highway was completed as State Route 69 to Prescott in May 1956. Work continued on the Verde leg of the highway from Cordes Junction to Camp Verde and Flagstaff. That stretch, completed in 1960 to Flagstaff, was designated State Route 79.
"Arizona's Main Street north from Phoenix has opened the way for residential, commercial and industrial expansion in an area dotted with mine claims, laced with cattle ranches, covered with wildlife, sprinkled with summer home settlements and endowed with ruggedly beautiful terrain," Clark said.
He noted that Sperry Rand had cleared 400 acres along the new Black Canyon Highway in Deer Valley for its plant on the northern outskirts of Phoenix. The highway launched a real estate boom with land selling for $550 per acre north of Deer Valley.
The Black Canyon Highway also became a key route for transporting cement from a new plant in Clarkdale to the Glen Canyon Dam site at Page.
However, road building is a forever evolving endeavor and President Eisenhower had a grander vision for the Black Canyon and America's highways. The U.S. Senate on May 31, 1956 approved a $25 billion spending bill to build 40,000 miles of interstate highways nationwide.
The first Black Canyon Freeway interchange at Grand Avenue opened in 1957 and by 1961 the nascent Interstate 17 reached Northern Avenue.
A 1964 highway map, shows a transition from a two-lane road to a controlled access highway between Phoenix and Flagstaff. The improved route was open at Rock Springs, near Cordes Junction and from McGuireville to Flagstaff.
Much of I-17 was completed by the early 1970s but the final stretch southwest of Camp Verde to Montezuma Castle did not open to traffic until August of 1978 when the Tanner Cos. finished a $7.7 million project.
The Camp Verde Bugle noted that with completion of the Black Canyon Freeway, Arizona had built 90 percent of the state's interstate system.
Travel time from Phoenix to Flagstaff on the new interstate was cut by the more than half. The original route of about 230 miles through Wickenburg Prescott and Ash Fork took at least five hours. Motorists on the Black Canyon Freeway now cover the 135 miles in two hours.
And that 30-hour stagecoach ride from Phoenix to Prescott became a desert breeze of a ride of just over 90 minutes.