Hocus pocus: Get an early start home on Halloween and drive with focus
Hocus pocus: Get an early start home on Halloween and drive with focus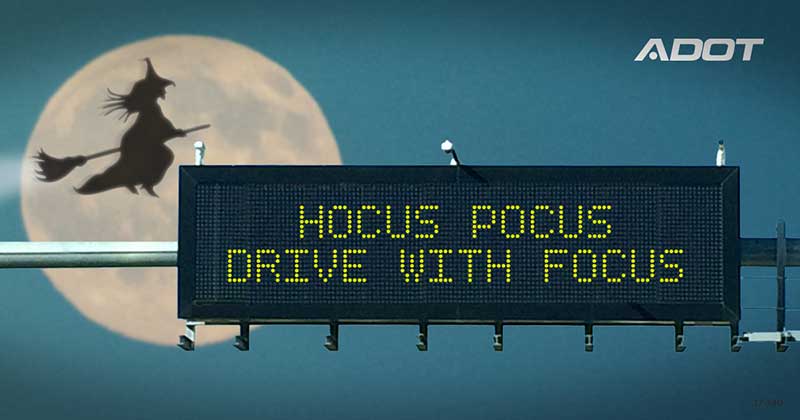 By Doug Nintzel / ADOT Communications
It rises like a spooky apparition with freeway fangs whenever Halloween occurs on a weekday.
We're talking about the Halloween afternoon rush hour, when too many mummies, daddies and potential party animals head for the highways at nearly the same time. Their ghoul – I mean, goal – is getting home in time to walk their neighborhoods with little goblins or to get in costume for a Halloween party.
Avoiding a grave situation on the afternoon-evening trip home starts with planning ahead and treating yourself to these Halloween commuting tricks:
Unless your ride home is a flying broomstick, carve out an earlier start toward Elm Street. Leaving by 3 o'clock may beat the witching hour, which generally is from 4 o'clock on.
Pack some patience along with that last-minute bag of candy. You'll get there. Aggressive driving puts you and other drivers in danger, and a crash can make the trip home longer for everyone.
Keep a sharp eye out for little skeletons and princesses, keeping in mind that they may not be paying close attention. Spooked pets could be running around too. And note that the setting sun makes it difficult to see apparitions in the road.
Last but without a doubt not least: a few words about spirits, as in the kind Halloween revelers may be consuming. Use a designated driver, a car service or some other means of getting home safely. Make no bones about it: Taking the keys from potential drunk drivers and never driving while impaired can make this Halloween less scary in a good way.