How old tires become part of smooth, durable freeway pavement
How old tires become part of smooth, durable freeway pavement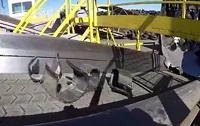 By Doug Nintzel / ADOT Communications
You've heard the saying that you don't want to know how hot dogs are made.
Well, that's not true of rubberized asphalt. In fact, some ADOT staffers recently took a tour of a couple of the Valley businesses involved in the process of creating the smooth, durable asphalt that features rubber from recycled tires as a key ingredient.
Since an 11-mile stretch of Interstate 17 in Phoenix is being resurfaced this spring, we wanted to take a look at how they make that pavement.
We started at the Crumb Rubber Manufacturers plant in east Mesa. This facility takes mountains of old tires and turns them into tiny granules of rubber that eventually go into the mix for rubberized asphalt.
First stop: The plant's large back lot, featuring those big tire piles. It's here that workers place tire after tire on conveyor belts that feed them through a series of machines that chew them up while spitting out smaller and smaller pieces. The screeching and stretching sound of a tire giving up its original life to become part of a freeway's pavement is something to behold.
Along the way at this rubberized version of Charlie's Chocolate Factory, the steel in the tires is removed along with fibers and other similar material. There are magnets that help collect it. What we couldn't see inside the plant involves a freezing process that's included in reducing the tire rubber down to the consistency of ground coffee. It's all placed in large white storage bags.
From there, large containers of the crumb rubber are trucked out, destined for another company that starts the process of blending those tire particles with the liquid asphalt.
The rubberized asphalt being used on the current project to resurface Interstate 17 in Phoenix is manufactured at a Vulcan Materials Co. plant near Broadway Road and 43rd Avenue. The large dirt lot where the plant operates is dotted with various mounds of aggregate – the rock material used in asphalt pavement.
Our ADOT crew was provided with great access to see how the asphalt is made. Safety comes first as you keep an eye out for vehicles that are coming and going, including a front loader hauling aggregate to bins that will feed the small rocks onto a conveyor belt.
Nearby, the liquid asphalt and melted crumb rubber blend flows from special heat tanks. The key ingredients are mixed in rotating drums that also keep the rubberized asphalt hot before it is shipped along one more conveyor system into tall silos for storage.
Those silos are mounted on top of an open steel platform, which large dump trucks are able to pull under. Each driver pulls in beneath the correct silo. Hatch doors then open, allowing the rubberized asphalt to drop into the truck's bed.
From there the still hot asphalt is delivered to the freeway job site, ready to be paved into a one-inch thick overlay that by the end of any one weekend, thousands of I-17 drivers will be traveling on.
Enjoy the ride. Remember: Thousands of tires went into making it a smooth one.