Intercity Rail Study examines environmental impact, alternatives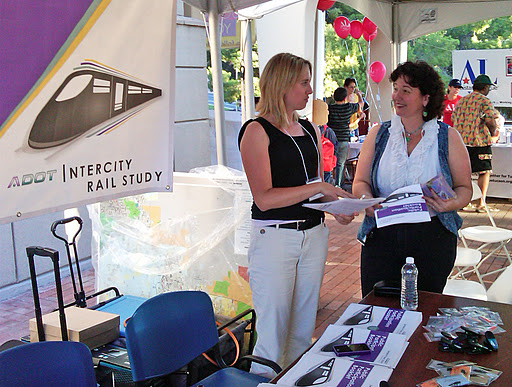 Earlier we told you about the new intercity rail study that's going to help ADOT examine the possibility of a new transportation link between Phoenix and Tucson.
But, today, we really want to focus on why ADOT conducts studies like this one.
It all starts with something called the National Environmental Policy Act...
NEPA was passed in 1969 and is designed to make sure all levels of government take the environment into consideration when developing projects that involve federal involvement.
Federal actions that are likely to have an impact on the surrounding environment are subject by NEPA to the Environmental Impact Statement process, which is what ADOT is working toward developing with the Intercity Rail Study.
One of the purposes of an EIS is to identify impacts a project might have on its surroundings.
To give you an idea of the scope of an EIS, here are just a few of the categories that are taken into consideration:
Archaeological and historic sites
Vegetation and wildlife
Air and water quality
Social conditions
Economics
Floodplains
Water resources
The EIS process has several steps and right now we're at the very beginning. Public comment is really important at this stage ... now is the time for residents of the area to speak up and let ADOT know what aspects of their environment need to be analyzed!
After this initial "scoping" period ends, we'll move on to create an Alternative Analysis Report. This will identify all alternative modes and routes of transportation to be studied, including a "no-build" option (your input is especially important in determining these alternatives).
From there, an environmental impact analysis is completed and another formal opportunity for public comment is given, however public comment is encouraged throughout the process by accessing the website. After that, a final EIS is written and a recommendation is made.
The process involves many steps, but the goal is to get enough information to develop a project alternative that's going to best fit the needs of the state!
More on the environmental process can be found on our new intercity rail study website. (https://azdot.gov/planning/transportation-programs/state-rail-plan/passenger-rail-study-tucson-phoenix)