Passenger Rail Study: Tucson to Phoenix
Passenger Rail Study: Tucson to Phoenix
Completed 2015 - The Passenger Rail Corridor Study began in 2011. During the five-year study, ADOT worked closely with the Federal Railroad Administration (FRA) and other federal agencies, as well as local governments and planning organizations in Maricopa, Pinal and Pima counties, to determine the feasibility of a passenger rail system between Tucson and Phoenix.
To support this effort, a Tier 1 Draft Environmental Impact Statement (EIS) was published in September 2015. The EIS documented the environmental considerations related to the final two "build" alternatives and the "no-build" alternative. The decision to pursue the alternatives in the Draft Tier 1 EIS came not only from technical evaluations, but was also largely based on public and agency input.
There is currently no construction schedule and no funding identified for a project to build a rail system between Tucson and Phoenix. Moving forward, the public and policymakers will decide how to generate the funding to pay for the project.
Types of Rail
The Passenger Rail Study between Tucson and Phoenix was looking to connect the two largest metropolitan areas in Arizona and provide intercity/commuter rail transit. Rail in Arizona is growing. The light rail system in Maricopa County started operating in 2008 and the Modern Street Car in Tucson was set to open in 2014. Arizona continues to study and develop future rail in Arizona.
Streetcar
Characteristics: Typically serves short trips and operates in mixed traffic on city streets; generally circulates through urban centers; is powered by overhead electrical wires
System Extent: 1 to 8 miles
Station Spacing: 2 to 4 blocks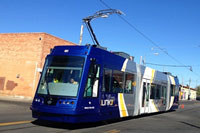 Light Rail
Characteristics: Typically serves trips to and within central business districts and other activity centers; generally operates at-grade in an exclusive lane on city streets, but may include grade-separated guideways; is powered by overhead electrical wires
System Extent: 15 to 20 miles
Station Spacing: ½ to 1 mile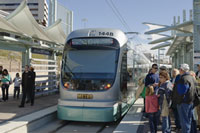 Commuter Rail
Characteristics: Typically serves daily work trips between primary employment centers and outlying suburban areas using railroad passenger cars; can operate in freight railroad corridors and is usually powered by diesel locomotives
System Extent: 20 to 75 miles
Station Spacing: 5 to 7 miles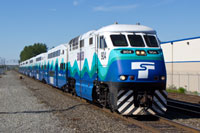 Intercity Rail
Characteristics: Typically serves longer-distance travel between metropolitan areas; can operate in freight railroad corridors and is usually powered by diesel locomotives
System Extent: 50 to 300 miles
Station Spacing: 20 to 30 miles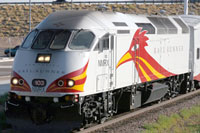 High-Speed Rail
Characteristics: Serves markets similar to air travel for regional or interstate trips; operates electric locomotives in an exclusive rail right-of-way
System Extent: 200+ miles
Station Spacing: Major cities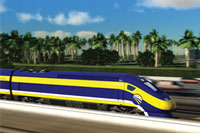 Documents