It's a cold fact: Many Arizonans don't know snow deeply
It's a cold fact: Many Arizonans don't know snow deeply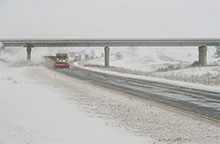 By Laurie Merrill / ADOT Communications
If you were born and raised south of Cordes Junction, let's face it: You're probably not an expert when it comes to driving in snow. Even if you hail from the East Coast or a place like Colorado, chances are you've been driving in blazing sunlight so long that at the very least you need a refresher.
ADOT's Know Snow website is packed with tips on how to stay safe, warm and prepared for any journey on which you might encounter snow or ice. We recommend giving it a look with snow forecast in Arizona's high country starting Thursday night.
One of the most important tips takes place before you even get behind the wheel: Research weather conditions. Visit az511.gov or dial 511 for updated road conditions. Follow ADOT's Twitter account at @ArizonaDOT. However, never use a cellphone or mobile device while driving.
If it's going to be a big storm, you might choose to sit this one out . That way ADOT's nearly 200 snowplows can clear the roadways.
Did you know that ADOT's commercially licensed plow drivers – 400 of them in all – typically work 12-hour shifts during storms? Did you know that the safest place to be is four car lengths behind a snowplow, and that it's never safe to pass one until it pulls over to let you by? Did you know that ADOT annually spends between $5 million and $8 million on winter safety operations?
For more facts and tips, please check out our Know Snow website. You'll be glad you did.
You also can reduce the chances of getting caught out in the cold by downloading the free ADOT Alerts app available for iOS and Android at ADOTAlerts.com. Using geofencing technology, the app will alert you to major events on highways, including any closures prompted by snowfall.