Keeping Arizona clean again motivates Adopt a Highway manager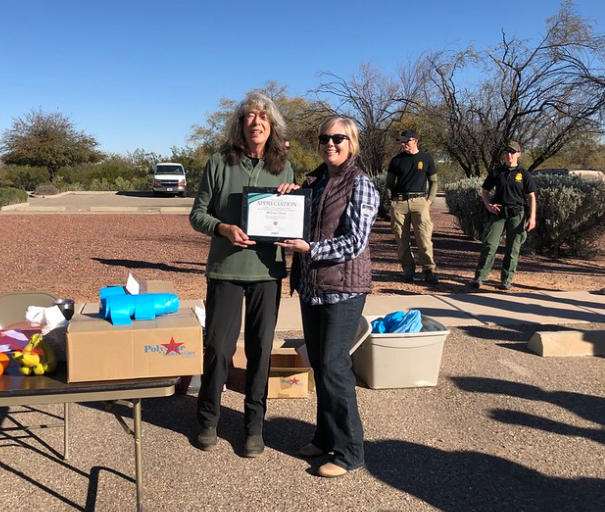 By Laurie Merrill /ADOT Communications
Let's face it, not everyone jumps out of bed most mornings and says, "I'm going to clean a highway today!"
But keeping highways litter-free again motivates Mary Currie, program manager in charge of ADOT's Adopt a Highway program. She's at right in the photos immediately above and below and solo in the picture farther down.
Currie's mission is spreading the word about the rewards of adopting a piece of highway and gathering with like-minded folks for a few hours of fellowship and community service.
"There is nothing glamorous about cleaning up other people's litter or stuff that has blown out of a window or a truck bed," Currie says. "But nearly 10,000 individuals did that for us last year."
Among them was Currie, who has worked at ADOT since 2005. After stepping into her new role in late 2017, she quickly saw the wisdom of walking the walk.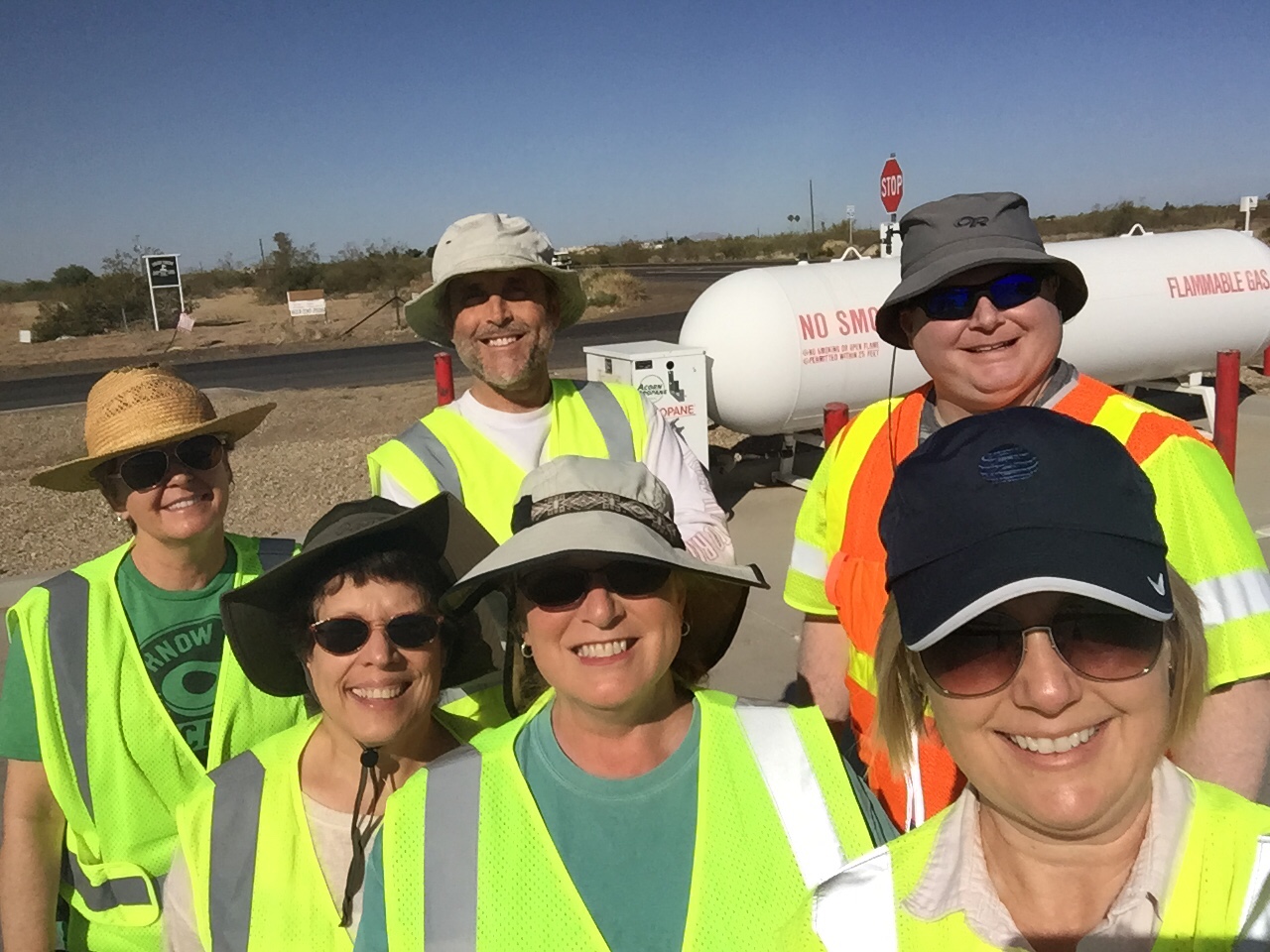 After all, it's hard to pitch an activity without firsthand experience.
Thus she organized ADOT Communications' own band of garbage removers, whose Adopt a Highway sign says, "Word Sayers and Trash Slayers." They gather through out the year to spiff up a stretch on US 60 near Wittmann northwest of the Valley.
That team is one of more than 900 whose members put on safety vests, wield trash pickers and stuff garbage into large plastic bags. There were 810 groups in 2017.
Currie notes that about 400 of the current groups adopted highway segments as a remembrance of a friend or family member. One such group, taking care of a stretch of State Route 260 in eastern Arizona, is the family and loved ones of Clint Fluhr, who passed away in 2007 at age 23 in Pinetop. Then there's Evelyn Oneil, who adopted a stretch of SR 79 south of Florence Junction to remember her son, U.S. Marine Brodie Jay Denow.
"It means so much to people that they can memorialize a loved one by getting together and doing something for the community in their honor like cleaning up trash," Currie said.
One of the longstanding groups, The Prescott Litter Lifters, dates to 1981. They get together several-dozen strong for an hour twice a week.
"They currently clean over 60 miles of Prescott highway and area roads. Volunteers picked up over 6,000 bags of trash, and that's just since 2012," Currie said.
Currie has initiated two programs to recognize volunteers, an Adopt a Highway quarterly newsletter and a certificate of appreciation given to each team leader.
"We want them to know that many are watching the good work they do, and let them know they are valued," Currie said.
Another new feature is an Adopt a Highway interactive map that makes it easier for people to see which stretches of roadway may be up for adoption.
"These are groups or individuals that decide to take a step forward and make Arizona a better place," Currie said. "They do it because they want to make a difference. This is what drives me."
If you're interested in adopting a highway and helping keep Arizona litter-free, please visit azdot.gov/adoptahighway.