Keeping drivers, pedestrians safe on Halloween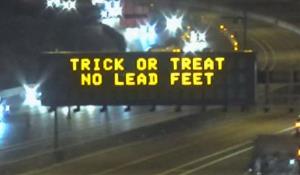 By Doug Pacey / ADOT Communications
At the intersection of Halloween and transportation, two topics bubble to the top of the traffic cauldron.
The first is that the afternoon commute begins earlier than usual because people are rushing to get home for trick-or-treating and parties. Next, and more importantly, is that drivers should expect to see many more pedestrians on sidewalks because trick-or-treaters will be making their way through neighborhoods.
In an effort to encourage drivers to make safe driving decisions, ADOT will display two Halloween-themed safety messages on overhead signs statewide.
Last year on Halloween, 12 pedestrian-related crashes occurred – that's more than twice the daily average of pedestrian collisions. ADOT wants to remind drivers to use extra caution and anticipate seeing pedestrians in unexpected places, such as crossing streets outside of crosswalks. And trick-or-treaters should stick to sidewalks, wear bright costumes and look both ways before crossing streets.